HQY-Y Moving Type Mobile Dental Digital Intraoral Dental X Ray System
1.1 Characteristics
HQY-Y dental x-ray unit is an essential diagnostic equipment for dentist with features as following:
a). Simple structure: The x-ray generator, central controller and unit frame are integrated into one unit.
b). Good protection: The radiation is much lower than national protecting standard.
c). Digital circuit: The digital circuit makes exposure time accurately.
1.2 Main use
The unit is particularly provided for synthesis hospitals,cavity specialty hospital and dental clinic to take photo.
1.3 Environmental and working conditions
a. Condition of transportation and store
Environmental temperature: -20~70ºC
Relative humidity:≤75%
Atmospheric pressure: 50~106Kpa106Kpa
b. Conditions of operation
Environmental temperature: 10~40ºC
Relative humidity:≤75%
Atmospheric pressure: 70~
c. Power supply
Single phase AC 220±22V;50Hz±1Hz
Power capacity:>1000VA
Power resistance:<2Ω
1.4 Security and relative symbol
Don't use or store near the place which is possible to fire.
Don't use or store where air pressure or temperature or moisture exceeds range.
Keep good ventilation and avoid direct sunlight, protect against the eroding of dust and corrosive air.
Avoid slant, shaking, and shock (including transportation).
Don't use or store near to chemicals or combustible gas.
There is to indicate grounding nut, please be sure of good grounding before use.
means output of radiation.
The machine is with special device to control radiation for safe operation.
SPECIFICATIONS
2.1 Technical specifications
tube voltage: 60KV±10%
tube current: 8mA±20%
exposal time: 0.2~4.0s
input power: <600VA
output power: P≈339VA
irradiation diameter: 6cm
fuse: RF1-20- 5A
capacity: 60KV . 8mA .
the way of operation :breake load;continuous operation
the weigh of x-ray source:7.5Kg
the variation rate of high-voltage generator 1:226
manufactory:hangzhou wandong electrical Co.Ltd.
X-ray area:3.14x262(mm2)
The time of loading follows R'10
up-down range of X-ray head: 400mm
forward-back range of X-ray head: 900mm
level turning angle of head: 360°
rounding angle of head: 270°
life: 6 years
2.2 Main specifications of X-ray tube
XD2-1.4/85 fixup anode X-ray tube
Top working voltage:85KV
Focus value:1.5mm
Target angle:23°
Fuse:Current:2.5A
Voltage:2.8±0.7V
Working frequency:50~60HZ
Perspective loading:150W
Anode thermal capacity:9 KJ
2.3 Main specifications of X-ray generator
X-ray Generator
X-ray tube:XD2-1.4/85
Focus value:1.5mm
Total Al equivalent:2mmAL
Tube voltage:60KV
Tube current:8mA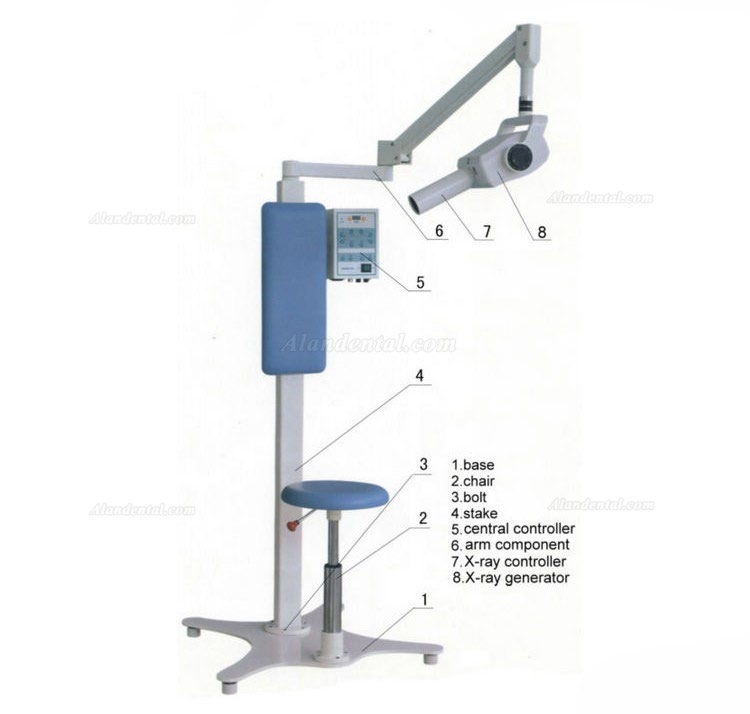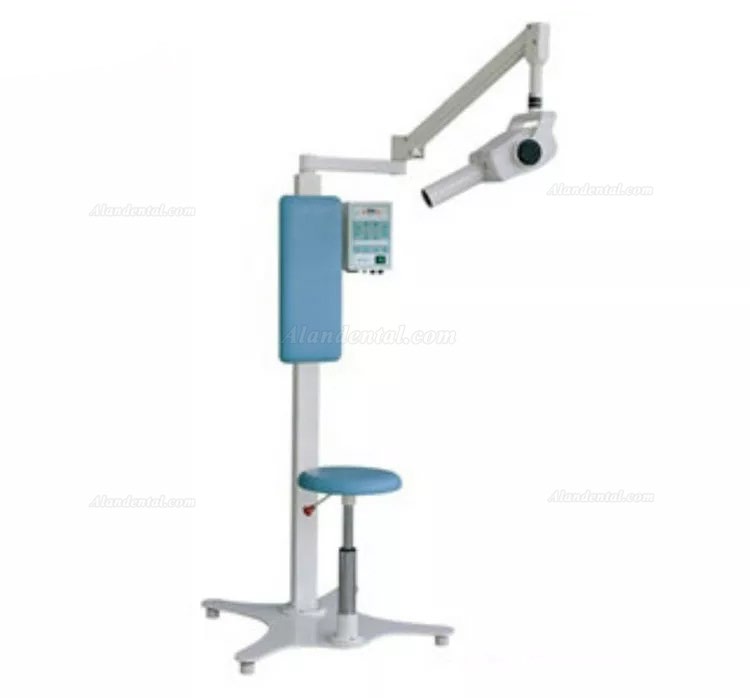 Contact Information:
Live Support: Chat with us online
Email: service.alandental@gmail.com
If you have any problem, please do not hesitate to contact us.
Shipment Note:
If your package shipped by Express Delivery, please give us a valid delivery phone number, and also a full and accurate shipping address.
How to Buy from Alandental?