Veterinary ECG300G-VET Digital 3-channel 12 leads Electrocardiograph ECG /EKG
1.Introduction
ECG300G-VET is a three channel electrocardiograph sampling ECG signals simultaneously and printing ECG waveform with thermal printing system, which features in, record and display ECG waveform in manual or auto-mode, promptings for "Lead off" and "Lack of paper", multiple languages interface, support both AC and DC for power supply, optional rhythm lead that convenient for abnormal heart rate observation, case database management, etc.
2.Features
1)Sync sampling, digital signal processor, gets better quality ECG waveform by ECG signals filtering through the power frequency filter, baseline filter and EMG filter.
2)Display 3/6/12-lead ECG waveform, and states of print mode, sensitivity, paper speed, filter, etc. in one screen, convenient for contrastively diagnosing.
3)Multi-print mode and format: manual and automatic 4×3, auto 3×4+1, auto 3×4, auto 2×6+1, auto 2×6, auto 3-2+1, auto 3-2, auto 1x12+1, auto 1x12, rhythm 4, rhythm 3 and rhythm2, etc. Waveform length can be adjusted and timing print function is available, which meets the need of different applications.
4)Built-in high-capacity memorizer can store up to 1000 cases, which is convenient for doctor's review and statistic.
5)The interface languages including: Chinese, English, Spanish, Turkish, Polish, Italian, French, German, Portuguese, Kazak Tili, Russian, Ukrainian, Serbian and Slovenian. Also the reports can be printed in all languages above.
3.Performance
Input mode: Floating and defibrillation protection
Frequency response: 0.05Hz~150Hz (-3dB~+0.4dB)
CMRR: >60dB, >100dB (Filter ON)
Time constant: ≥3.2s
Patient leak current: <10µA
Calibration voltage: 1mV
Sensitivity choice: 2.5/5/10/20/40mm/mV, error: ±5%. Standard sensitivity: 10mm/mV, error: ±2%
Noise level: ≤15µVp-p
Input loop current: ≤50nA
Input impedance: ≥50MΩ
Sampling accuracy: 12bit
Security type: CF type of classⅠ, anti-defibrillation applied part
Recording way: Thermal printing system
Auto record: record according to auto-record format and auto-mode settings, auto switch lead, auto measurement and analysis
Rhythm record: record according to rhythm record format and rhythm mode settings, auto measurement and analysis
Manual record: record according to record format, manually switch lead
Specification of recording paper: 80mm(W) × 20mm(L) High-speed thermal paper
Sampling rate: 1000Hz
EMG interference filter: 25Hz/35Hz (-3dB)
Power frequency filtration: AC 50Hz/60Hz (-20dB)
Paper speed: Auto mode: 5/6.25/10/12.5/25/50mm/s, error: ±5%
Rhythm mode: 5/6.25/10/12.5/25/50mm/s, error: ±5%
Manual mode: 5/6.25/10/12.5/25/50mm/s, error: ±5%
Power supply: AC: 100V~240V(50/60Hz)
DC: Rechargeable lithium battery 7.4V/3700mAh
Fuse specification: φ5×20mm, 2 pieces; AC time lag; T1.6AL250V
Anti-deleterious fluid degree: IPX0
Working mode: continuous operation device
Dimension: 315mm(L)×215mm(W)×77mm(H)
Net weight: 1.6Kg
4.Accessories
Standard:
1. Lead cable 1piece
2. Limb electrode clamp 1 set
3. Recording paper 1 roll
4. Power cord 1 piece
5. Ground wire 1piece
6. User manual 1 piece
Optional:
1. Bag
5.Physical characteristic
Dimension: 315mm(L)×215mm(W)×77mm(H)
Weight: 1.6Kg
Working environment:
Temperature: 5℃~40℃
Relative humidity: 25%~95% (no condensation)
Atmospheric pressure: 700hPa~1060hPa
Storage environment:
Temperature: -40℃~55℃
Relative humidity: ≤95%
Atmospheric pressure: 500hPa~1060hPa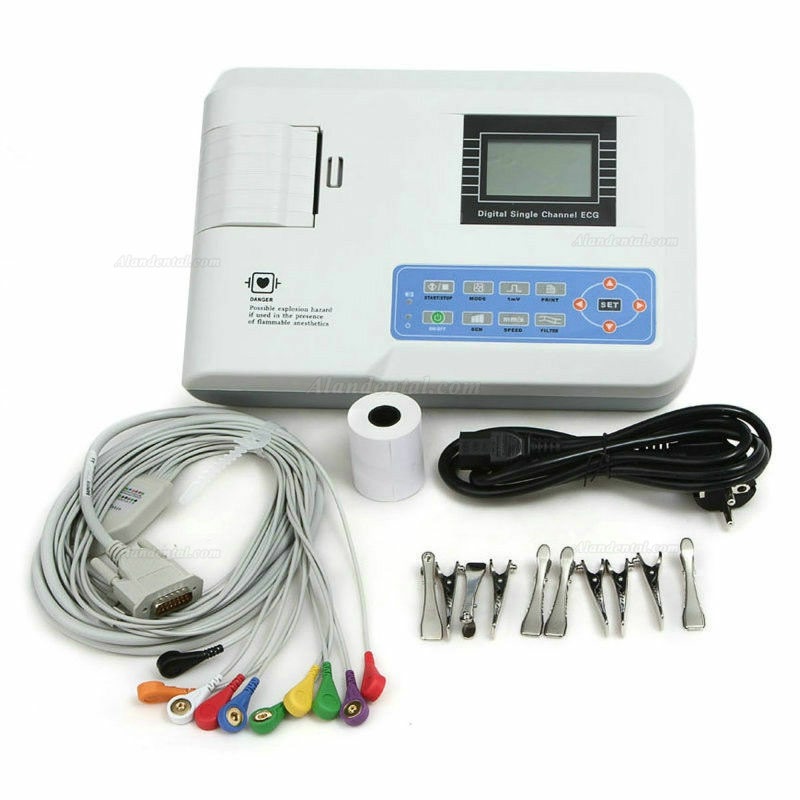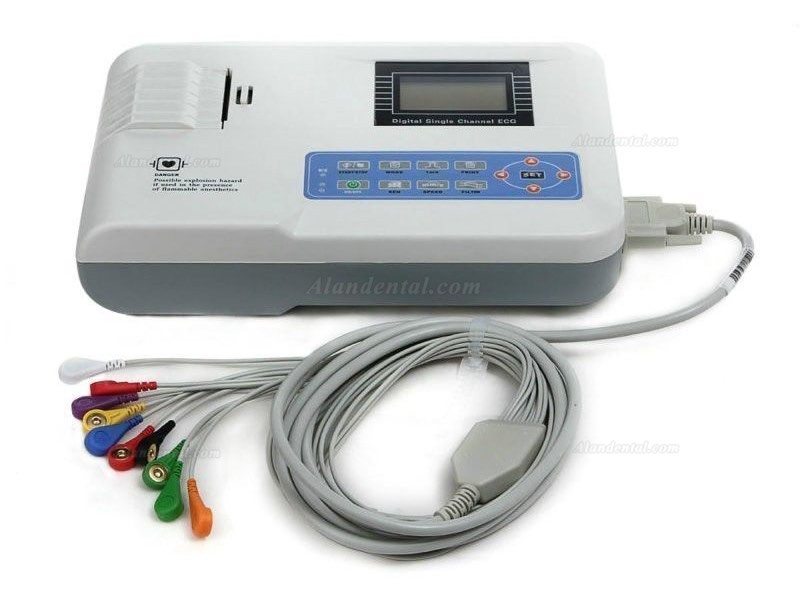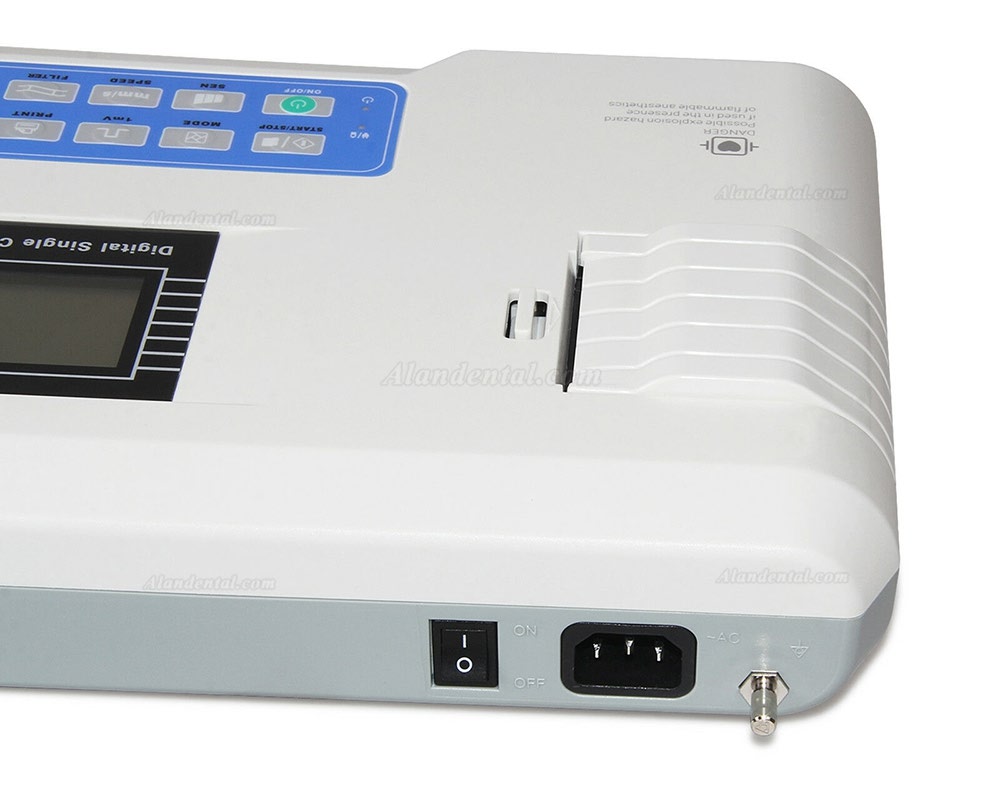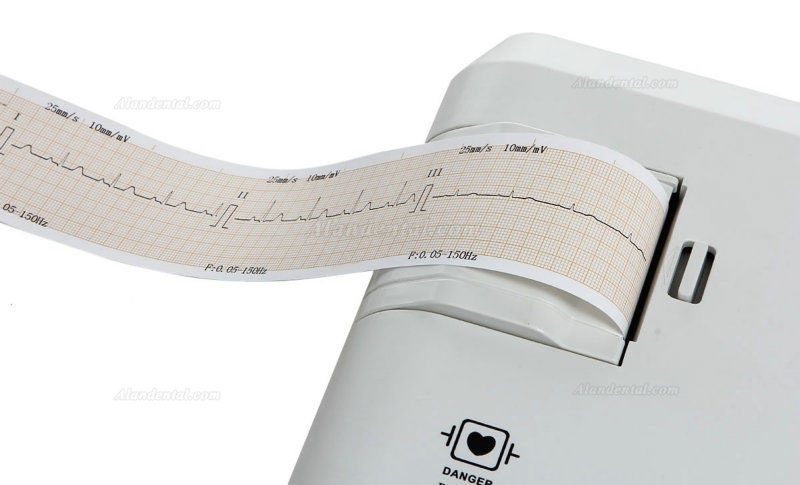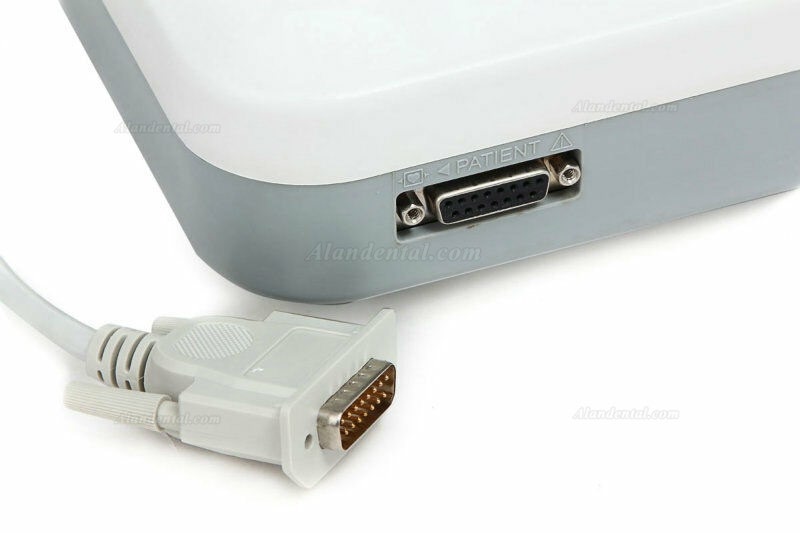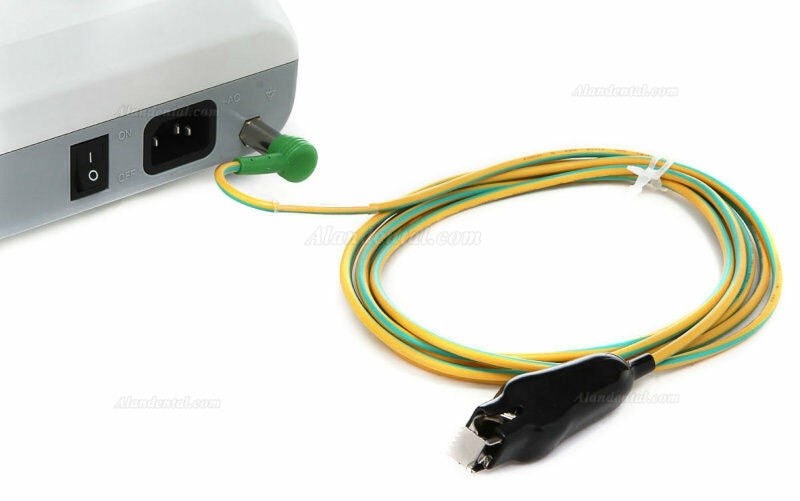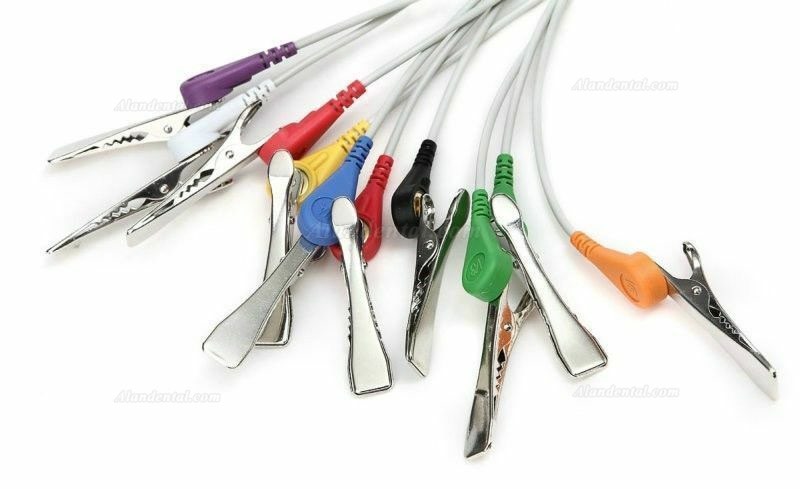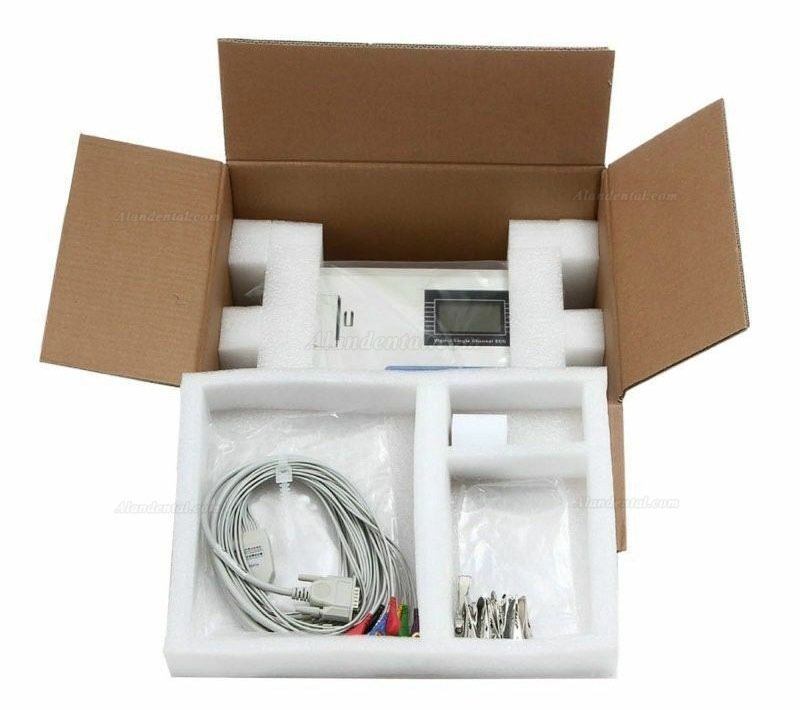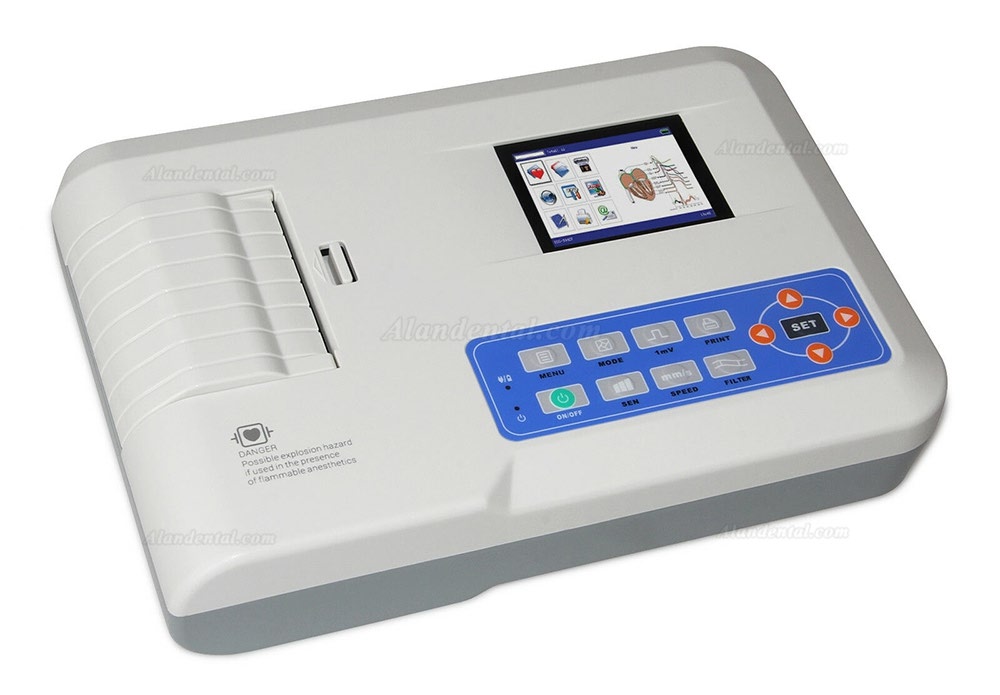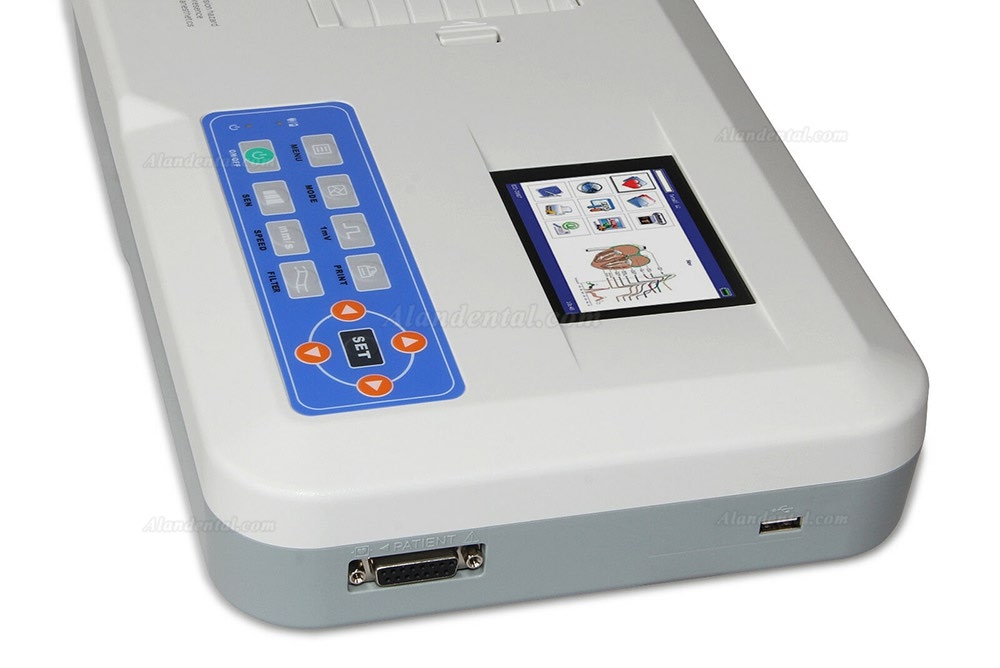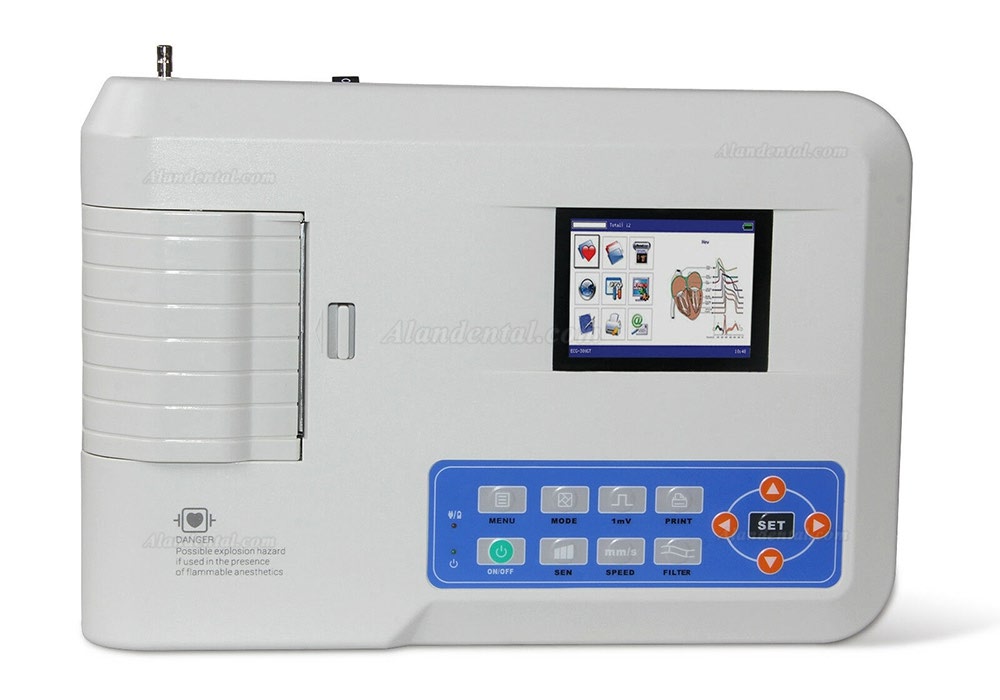 Contact Information:
Live Support: Chat with us online
Email: service.alandental@gmail.com
If you have any problem, please do not hesitate to contact us.
Shipment Note:
If your package shipped by Express Delivery, please give us a valid delivery phone number, and also a full and accurate shipping address.
How to Buy from Alandental?