Baby Sound Monitor Sonoline B Pocket Fetal Doppler
Features
Easy to use
1. Accurate FHR detection and LCD display with the backlight on or off
2. Built-in speaker for listening to the heartbeat without headphones
3. Headphone jack for listening to the heartbeat or attaching to the computer with the included accessory for recording the heartbeat
4. 2 AA size batteries
5. Low battery consumption and Auto OFF feature
6. Battery icon indicates how much battery life is left
Fetal Doppler Displays Three Modes
Mode 1: This mode displays fetal heart icon when fetal heart beat is detected and also displays the real-time heart rate numerically.
Mode 2: This mode displays the fetal heart icon when the fetal heart beat is detected and averages the fetal heart rate for a more stable reading.
Mode 3: This mode can calculate an average fetal heart rate over a specific period of time by manually pushing a button to start and stop the time.
Main performance
Anti-electroshock Type: Internally powered equipment
Anti-electroshock Degree: Type B applied part
LCD Display: 45 mm × 25 mm
FHR Measuring Range: 50 BPM ~ 240 BPM (BPM: beat per minute)
Resolution: 1 BPM
Accuracy: ± 2 BPM
Power Consumption: < 0.8 W
Voltage: DC 3.0 V
Power Supply:TWO 1.5V(AA size)alkaline battery
Suitable Using Range: Suitable for use after the 12th week of pregnancy
Auto Shut-OFF: After 1 minute no signal, power off automatically
Probe:
Nominal Frequency: 2.0 MHz
Working Frequency: 2.0 MHz ± 10%Ultrasound Output Power: P < 10 mW Ultrasonic Output Intensity: Isata < 5 mW/cm2Negative Peak Sound Pressure : p_ < 0.5 MPa Working Mode: Continuous wave Doppler Effective Radiating Area of Transducer: 208 mm2 ± 15%
Probe Features
3MHz water resistant Doppler probe ensures a high-sensitivity probe that cannot be damaged by transmission gel
Doppler Cord is rubber coated to protect it from the elements and coiled for plenty of stretch
Doppler Probe easily dethatches from the main unit for storage
Earphone jack for listening or attaching fetal doppler to the computer with the included accessory for recording the heartbeat
Packing List
Fetal Doppler with 3Mhz waterproof probe (main unit is not waterproof): 1 each
Instructions booklet: 1 each
Gel: 1 each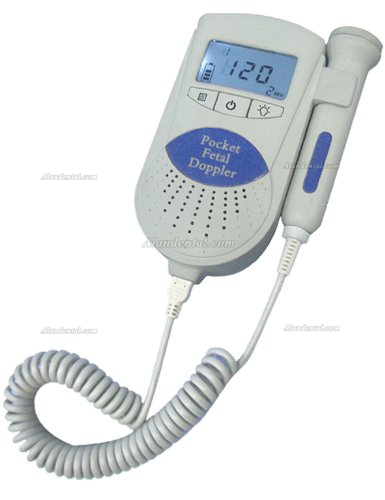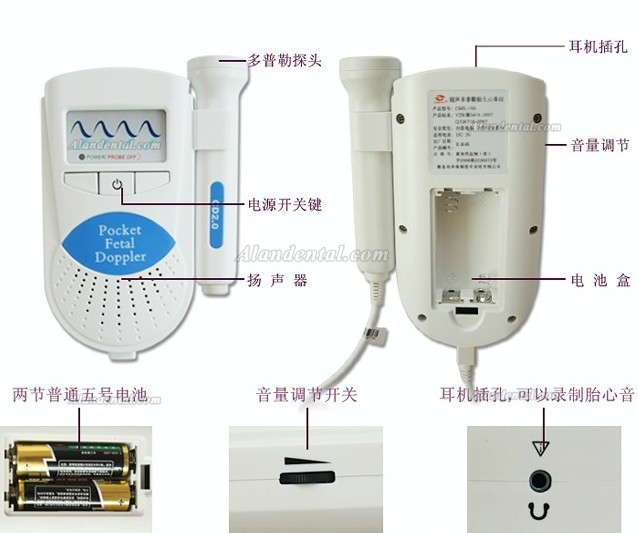 Contact Information:
Live Support: Chat with us online
Email: service.alandental@gmail.com
If you have any problem, please do not hesitate to contact us.
Shipment Note:
If your package shipped by Express Delivery, please give us a valid delivery phone number, and also a full and accurate shipping address.
How to Buy from Alandental?