7Pcs Dental Porcelain Veneer Preparation Diamond Bur Kits
Description
Item Name:Dental BURS Porcelain veneer preparation
Types:BR-12,EX-56,EX-57,EX-58,TR-32,SO-20,TR-D36F
BR-12: ISO 806 314 001 524 010
For the edge of the gingival to removing the depth of 0.3-0.5MM and extend to the collar near the distal and cutting edge.(Window)
EX-56: ISO 806 314 552 524 016
Removing labial surface depth 0.3MM instructions ditch.
EX-57: ISO 806 314 552 524 0211
Removing labial surface depth 0.5MM instructions ditch.
EX-58: ISO 806 314 500 524 010
The longest diamond bur is 1.5MM. for cut end located. but tand encasement mode. It is easy to control.
TR-32: ISO 806 314 198 524 014
Main diamond burs, reduce the remaining tooth structure. prepare cut end removing 0.5-1.0MM (butt mode) removing 0.5-0.8MM shoulder for surrounding the lingual portion of the tooth.
SO-20: ISO 806 314 289 524 008
The diamond burs extend to the collar near the distal, removing labial surface 0.5-0.7MM removal undercuts and trimiming interproximal. Please do not destruct interproximal contact point
TR-D36F: ISO 806 314 198 514 024
Fiutishing every ends, removing sharp line angle for preparation and no augle shoulder
Packing List
7Pcs as picture shown for sale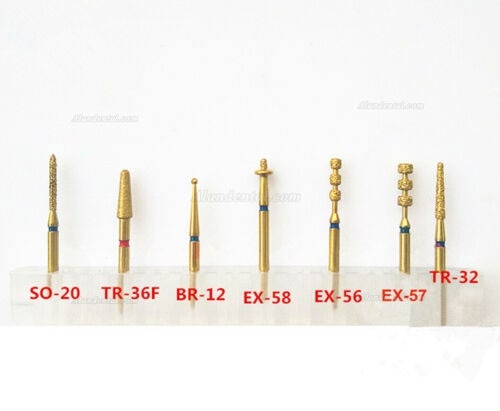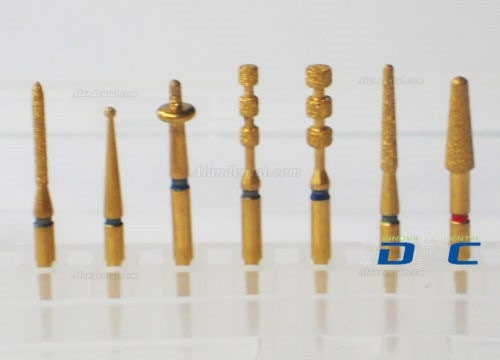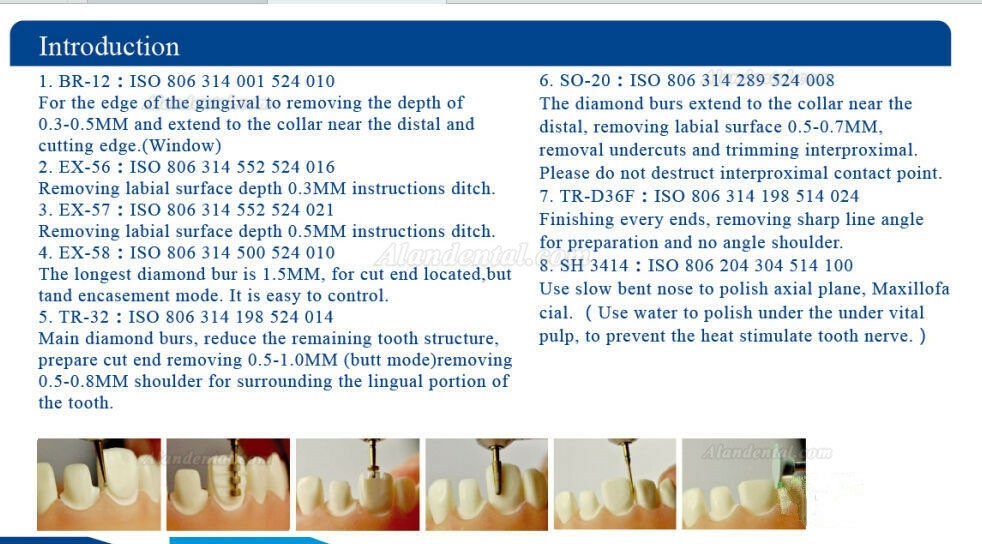 Contact Information:
Live Support: Chat with us online
Email: service.alandental@gmail.com
If you have any problem, please do not hesitate to contact us.
Shipment Note:
If your package shipped by Express Delivery, please give us a valid delivery phone number, and also a full and accurate shipping address.
How to Buy from Alandental?