RA0312D Toboom® Composite Polishing Kit 12pcs
Characteristic: Fast speed grinding, long service life, fast heat dissipation, excellent polishing effect.
Introduction: 12 pcs/kit, used for low-speed handpiece only
4 pcs white ceramic grinder: CW 3064 * 2 pcs; CW 3114 * 2 pcs
4 pcs light blue silicone polisher: SH 3114, SH 3144, SH 3414, SH3204
4 pcs pink rubber diamond polisher: RD 3117, RD 3147, RD 3417, RD3207
Steps:
1.White stones are used for adjusting anatomical shape and remove excess composite to finish shaping. (Recommend R.P.M 10000-12000/Min)
2. Light blue polishers are used for eliminating surface scratches and prepolishing. (Recommend R.P.M 8000-10000/Min)
3. Light pink polishers are used for high gloss polishing of the surface. (Recommend R.P.M 6000-8000/Min)
Effect: 1.Fast finishing the balance composite after light cure.
2. After polishing, without any micro leakage at the contact point and surface of composite with the tooth.
3. Experimental results show that the perfect polishing effect can prolong the service life of 1-2 years.
Caution: When finishing and polishing, control the pressure and rotational speed, avoid damage the enamel.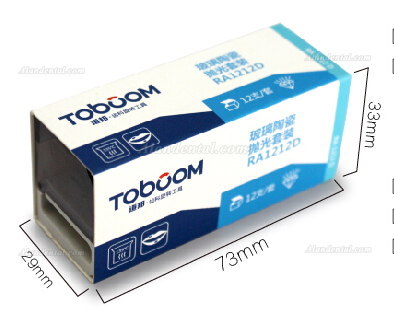 Contact Information:
Live Support: Chat with us online
Email: service.alandental@gmail.com
If you have any problem, please do not hesitate to contact us.
Shipment Note:
If your package shipped by Express Delivery, please give us a valid delivery phone number, and also a full and accurate shipping address.
How to Buy from Alandental?