LuckBird® Dental Operation Microscope Floor Type 180°Angle Adjustable Hinged Binocular
Features
The Model LZJ-6E operation microscope, suitable for the mirco-surgery, can be suitable for the micro-operations and check of dept. of stomatology, dentistry,ENT dept., cranial surgery, department of neurosurgery. Can also carry on teaching, take pictures and make a video recoding besides observing deep cavity.
1. 180°angle adjustable hinged optical binocular tube In a different position you can maintain upright sitting position to gain maximum comfort.
2. With a fine-tuning a large objective lens allows you to easily access clear facial.
3. Bright and clear,strong stereoscopic impression optical system let you visual experience to the feeling of never before seen images for your convenience subtle observation, increase your work effciency and treatment.
4. Simple damping-conditioning system. The primary mirror can be easily maintained at any location within the movement.
5. Other personalized design. Smart spring arm, easy movement;light source and alternate source of a second to easily convert and maintain a safe and reliable treatment; With a limit of the power to open, breaking the regulation of devices and filter pull rod invariably refelects the humanization design philosophy.
Specifications:
1. Magnification: Five steps drum wheels are changed into 3.4x,5.1x,8.3x,13.5x,20.5x, the ratio of mabnification 1:6.
2. Main double ocular:The adjustable binocular of dyadic dip angle of modulus 0°-180°optics hinges tube;12.5x/18B wide angles eyepieces; The mirror but the retinue front and back moves a host arbitrarily collapsing the range of incline: >90 degree.
3. Diameter of visual field:The diameter of visual field.φ66mm,φ41mm, φ26mm, φ16.5mm,φ10.4mm
4. Focusing system:The big objective with micro-adjusting,foci:250mm, the range of focusing:20mm. Optional different focal length bitelescope:300,350mm,etc.
5. Regulate and control system:The good incline system with damping and the good up-down system with spring arm.
6. Floor stand (optional parts:wall-hanging model, top hanging model):
7. Light weight, operational activities over large areas, easy to move between department to facilitate the mutual sharing; The dimension of base: 640x640mm weight:100Kg The spread length of total arm ≧1300mm The range of up-down≧500mm
8. The coaxial cool light source fiber illumination, the max illuminance:≧60000Lx; Bulit-in 15V 150W halogen bulb, with fast switching spare halogen, continuous dimming; Bulit-in 50W xenon lamp lighting, with daylight characteristics, depth of field advantage; With a brightness adjustment knob, xenon lamp intermittent dimming; With orange and green filter(adjustable)
9. Built-in CCD:Freeze Frame function, to capture a static lens; User-specific parameter design; Continuous vertical image flip; Video Format PAL/NTSC; interface, Y/C, VBS; Color 480 lines of horizontal resolution, illumination 6Lux, safe water.
10. Outlay CCD: Splitter beam:20%, 50%, the CCD interface
11. Digital camera system: Splitter bean:20%, 50%, the camera interface.
12. Fabric mirror set:safety cover for optical parts
13. Standby lamp: 15V, 250W halogen lamp or 50W xenon lamp
14. Fuse: BGP-30X6-3A
15. Essential tool: cross screwdriver; instrument screwdriver; Brush, flannelette
16. SKU: ZT-M-LZJ-6ET-110-US
Electrical standards:
Rated Voltage:220V(±10%)110V(±10%)
Maximum power: 250VA
Rated frequency: 50...60HZ
Automatic short-circuit protection device
international Standard: YY/T0287-2300 idt ISO 13485:2003 ISO 9001:2008 CE.
Net weight: 90kg
Gross weight: 95kg
Packing size(1 carton/2 pieces): 950*810*320(mm)
Packing list:
NO
Equipment
Specifications
QTY
1
binocular tube
The adjustable binocular tube with

0-210°optics hinges angle

1
2
binocular tube foci
F=170mm
1
3
Binocular tube rotating disc type adjuster of PD
The range: 50mm ~ 80mm
1
4
The diameter of vision filed
¢66mm~¢10.4mm
1
5
Eyepiece magnification
12.5X/18B
1
6
Adjustable range of vision degree
±6D
1
7
Five step drum wheels magnification zoom system
Magnification:3.4x,5.1x,8.3x,13.5x,20.5x
1
8
With fine-tuning apochromatic
Large objective
Large objective working distance:250mm
Adjustable range: 20mm
1
9
Adjustable double handlebar
1
10
LED illuminance
Object plane illuminace(F=250)
The max illuminance ≥30000lx~60000lx, adjustable brightness, with automatic power-off switch
1
11
Diameter of illuminating light spot (F250)
¢85mm
1
12
Filter adjuster
Yellow and green filter, heat filter
1
13
Movable floor stand frame
Including base, column, big cross arm(510mm),small cross arm(620mm) and so on. The spread length of total arm:1350mm,height:1750mm, The range of up-down≥350mm
1
14
120°balancing arm with damping
Freely rotate to any position with damping
1
15
30° elongation pad
1
16
Built-in HD video system
HDMI1080P Full HD video and monitor,with photo,video and storage functions.
1
The above specifications are standard model B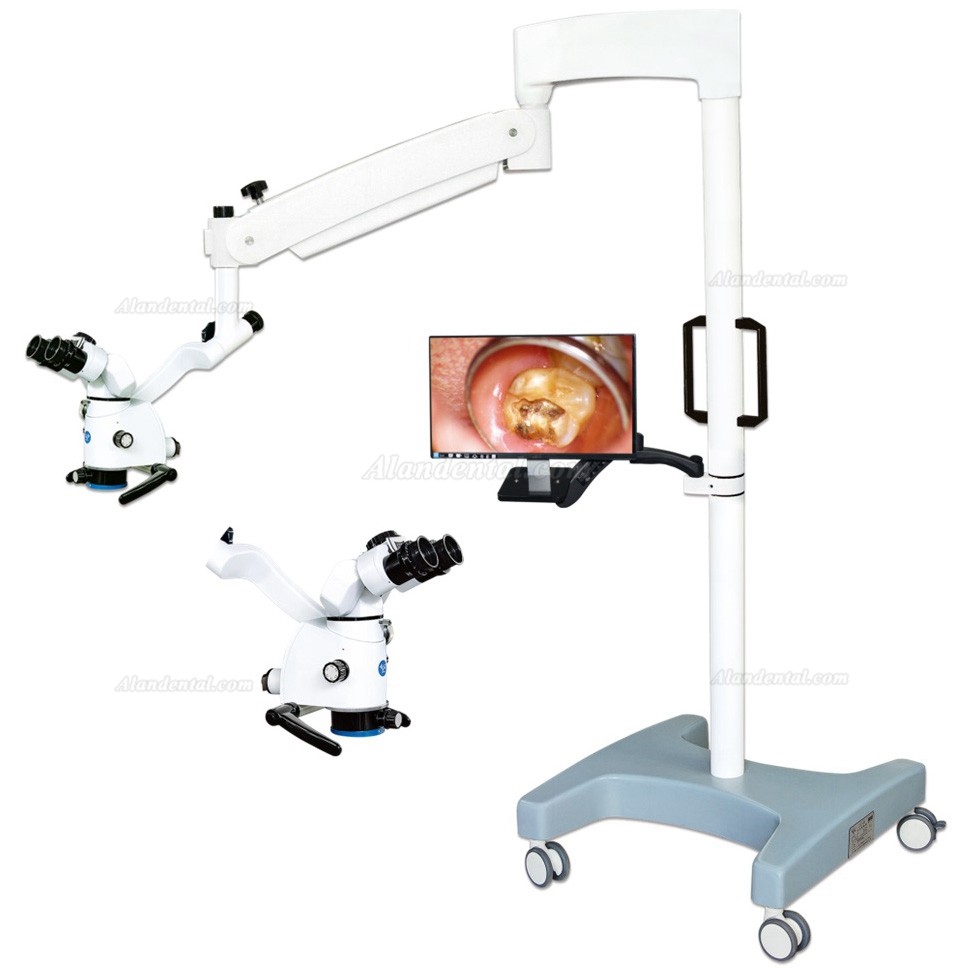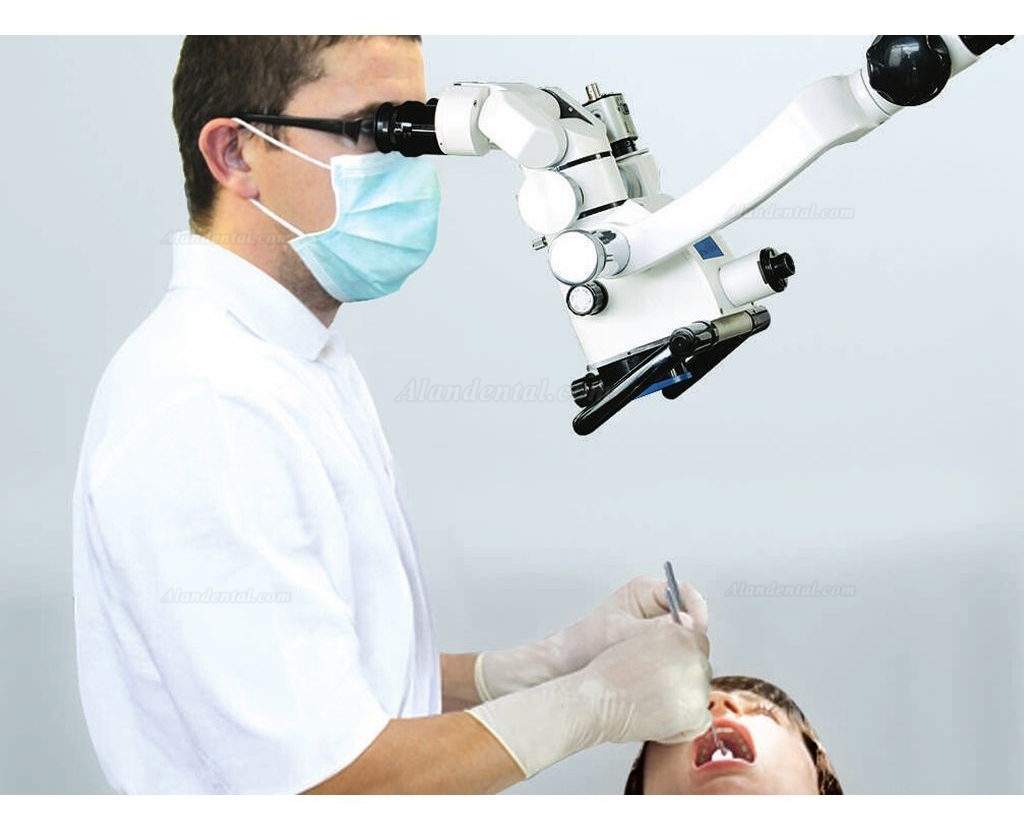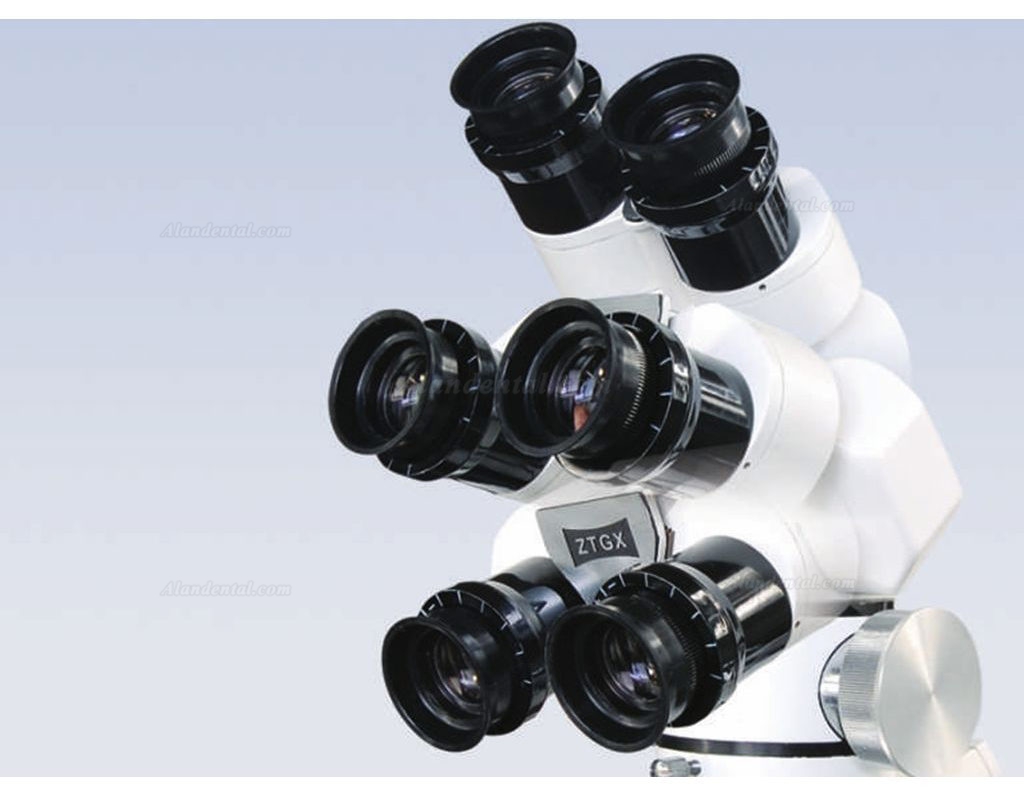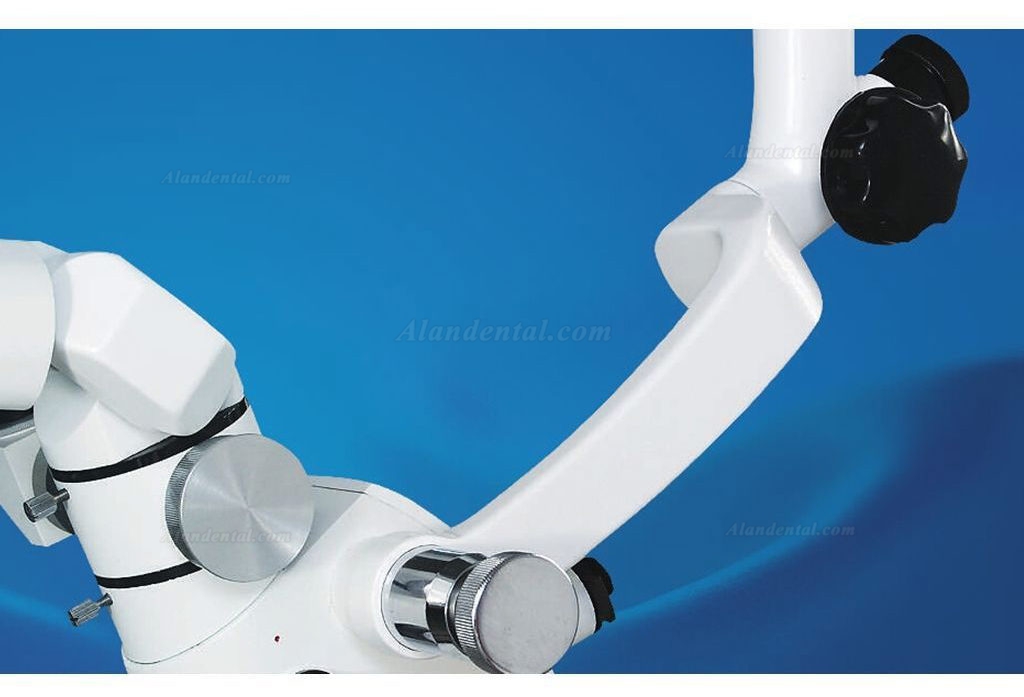 Contact Information:
Live Support: Chat with us online
Email: service.alandental@gmail.com
If you have any problem, please do not hesitate to contact us.
Shipment Note:
If your package shipped by Express Delivery, please give us a valid delivery phone number, and also a full and accurate shipping address.
How to Buy from Alandental?