A800 Cartoon Design Pediatric Dental Chair Children Dental Unit with Cartoon Fish Operating Unit
Descriptions
Warm reminded:
1.The dental unit chair must be sent via ocean shipping,because of the heavy weight. When you buy, please tell me your Port,if you advice some remote port, you need to plus shipping fee.
2.Once you pay and evey information confirmed,I will call the factory and shipping company to arrange shipping schedule and make the Customs clearance in China, then make the shipping.So all of this will take about 1-3 months. However it usually takes about less than 2 months.
3.Moreover,when it arrived you also need to make the custom clearance and pick it up from the port by yourselves. Or you can find a freight agency to help you. we don't responsible for your customs duty and other fees.
4.We can't cancel the order or refund you once we have made the custom clearance in China.
Model: A800
Standard accessories:
Economic chair for adult & children —— 1set
Attached fish instrument tray —— 1set
Apple side box —— 1set
Tablet for playing cartoon movie
Multi-function foot pedal
3-way syringe —— 2pcs
LED operation light with sensor —— 1set
AC X-film viewer —— 1set
Normal suction system
Automatic water heating system —— 1set
Built-in water purified system
Dentist stool-2pcs
A800 is a combination of normal chair and cartoon characterized side unit, such as smiling apple image side box, wavy arm, cartoon displayer, fish-shaped instrument tray, the most important, the perfect mixed color, so that it not only fits for adult, but also kids.
Compared with normal adult dental unit, it is quite special, colorful, let patients back to kids'age. Compared with dinosaur dental unit, it is simple, but own lovely cartoon image too, while price is more competitive.
Put it in your clinic, you own a practical dental unit for adult and kids.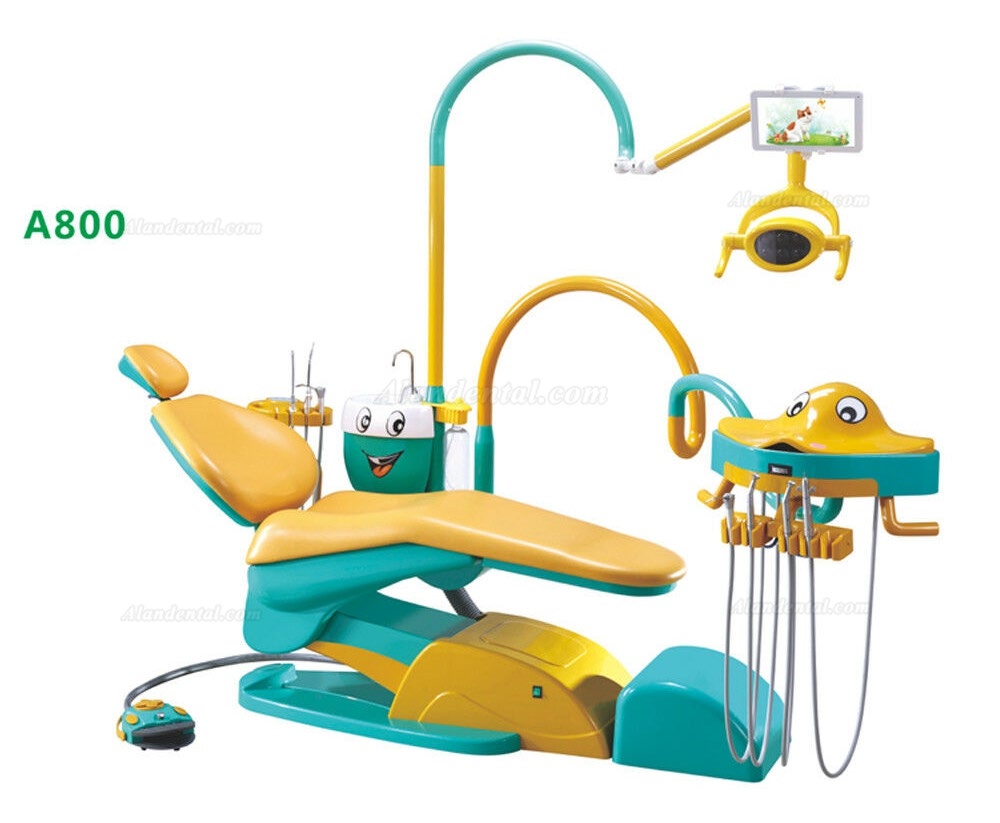 TECHNICAL PARAMETERS
Power supply: AC220V/AC110V 50/60HZ
Input power: 1200W
Fuse specification: RFl-20, Specification: Ф5×20, Rated current: 6.0A
Dental operatory light (cold light) : AC12--24V/6W--10W
X-ray film viewer: AC24V/4W
Water supply thermostat: AC24V/80W temperature: 40℃±5℃
DC motor: DC24V/L3.8A
Dental operatory light color temperature: ≤4500K
Dental operatory light intensity: 7000lux--42000lux
Working air pressure: 0.5--0.8Mpa,Working water pressure: 0.2--0.3Mpa
Pediatric dental chair's Intermittent working system: used for 1 minute with intermittent time of 15 minutes.
Load of dental instrument tray: 1.5KG
Size of pediatric dental chair: 160*110*120 cm
Packed weight: 250KG

Although it doesn't feature the animated bluecat and lovely dinosaur, the A800-KIS pediatric dental chair retains the same decorative style with its smiling apple spittoon and removable mudskipper-shaped unit to relax children receiving treatment. Meanwhile, its harmonious warm-toned design can also hold the patients' attention, making them feel comfortable.
The A800-KIS pediatric dental chair not only can be used by children, but also by teenagers and adults. It helps relax patients of all age, because many adults have psychological fear of seeing a dentist, too.
COMPONENT INTRODUCTION
Spittoon
1.Spittoon features a smiling apple pattern to distract patient's attention and relax him/her, so it also reduces the difficulty of the dentist's work.
2.Spittoon is made up of ceramic materials, which makes cleaning and disinfection easier.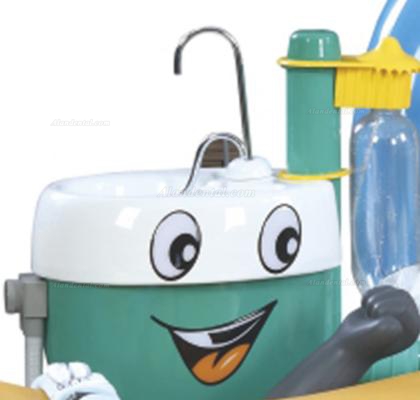 Dental operatory light
1.Good spotlight and uniform distribution of light spot provide convenience for dentist to observe the status of the patient's oral cavity from all angles.
2.The light cannot be deviated to patient's eyes because of uniform light pattern.
3.You can switch on/off the dental operatory light and adjust its intensity by manual or induction mode.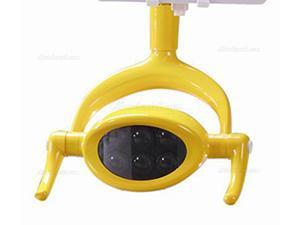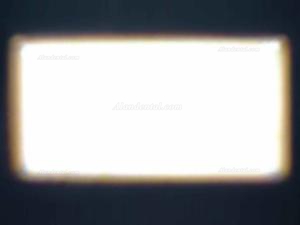 Children entertainment tablet
1.Entertainment tablet can be installed on the operatory light. Children can forget fear of treatment in some degree when they enjoy their favorite show.
2.Tablet holder can be 360-degree adjusted according to the patient's view.
3.Tablet holder can be placed on tablets of different sizes, patients' own tablet can also be used.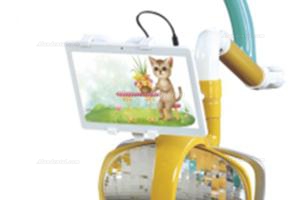 Mudskipper-shaped pusher delivery unit
1.Dentist can see oral panorama easily because of the ultra-wide panel film viewer inside the treatment unit.
2.Four-hole handpiece tubing uses advanced PU material which is corrosion resistant, high-pressure resistant and aging-resistant.
3.Three way syringe design provide convenience to wash affected area in patients' oral cavity.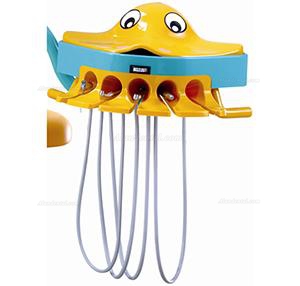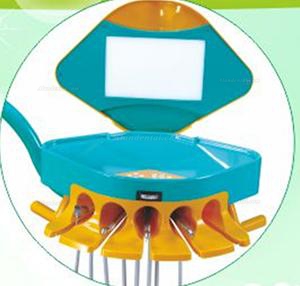 Multifunctional foot control
1.Dentist can adjust chair's height by using the foot pedal.
2.Dentist can control water supply of spittoon for mouth rinse cup by using the foot pedal, it can also provide cleaning water.
3.Multifunctional foot pedal controls water and air supply of the dental handpiece.
4.Multifunctional foot pedal controls the dental hand piece function of separating water from air.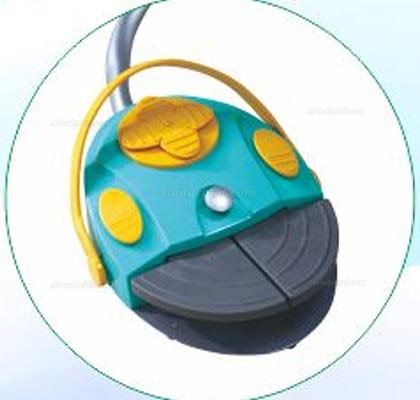 STANDARD CONFIGURATIONS
Electric patient chair 1set
Smiling apple spittoon 1set
Elephant nose LED dental operatory light 1set
Children entertainment tablet 1set
Mudskipper-shaped dental instrument tray 1set
Multifunctional foot control 1set
Four-hole handpiece tubing 3set
Three-way syringe 2set
Automatic heating water supply 1set
Strong/weak saliva suction system 1set
Panoramic X-ray film viewer 1set
OPTIONAL CONFIGURATIONS
Dental scaler
Curing light
Dental handpiece with high/low speed
Medical air compressor
Medical saliva suction negative-pressure machine
Intraoral camera (+display)
Other corollary equipment
Installation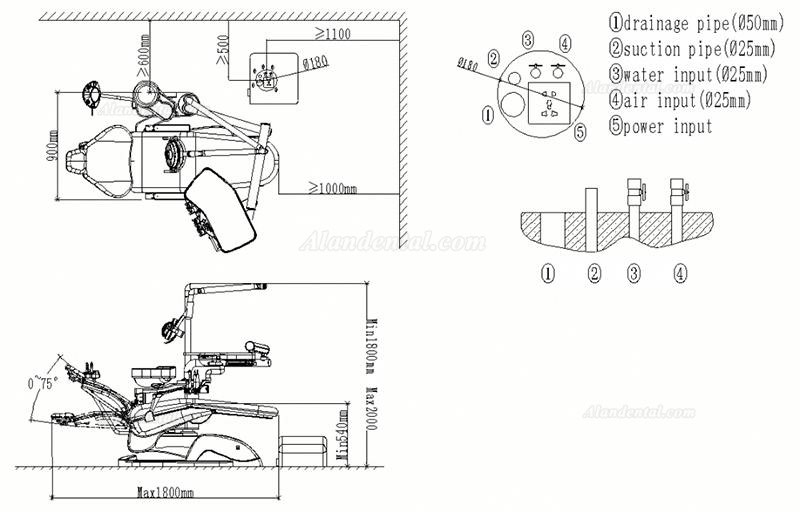 Contact Information:
Live Support: Chat with us online
Email: service.alandental@gmail.com
If you have any problem, please do not hesitate to contact us.
Shipment Note:
If your package shipped by Express Delivery, please give us a valid delivery phone number, and also a full and accurate shipping address.
How to Buy from Alandental?