Sun® SUN-III 16-23L Autoclave Sterilizer Vacuum Steam with Printer
Technical parameters:
Power: 220V 50HZ
Sterilization:high temperature and pressure steam
Capacity: 23L,18L
Rated operating temperature: 134 ºC
Rated operating pressure: 0.21Mpa
Temperature and pressure control range: 105 ºC ~ 134 ºC / 0.05Mpa ~ 0.22Mpa
Sterilization time range: 0 ~ 60 minutes adjustable
Liner and sealing the door: SUS316 stainless steel liner once entire cast
Pressure Control: control precision 0.005Mpa
Safety valve open and close range: 0.23Mpa ~ 0.26Mpa
Temperature uniformity: ≤ ± 0.5 ºC
Automatic over-temperature protection device: more than set temperature, the system automatically terminated procedures
Door interlocked: Only the door closed in place to start the work process, the pressure inside the chamber, the door can not open.
Overpressure safety valve automatically discouraging: more than the set pressure, the pressure release valve to open.
Input Power: 1800W-2000W
Operating temperature: 0 ºC ~ 40 ºC
After the whole pulse vacuum drying ,the vacuum level : up to-0.8-0.9bar
With B&D test and vacuum test procedures.To test the penetrability.
Residual temperature of Instruments drying: not more than 0.2%
Jet steam generator, the chamber temperature uniformity
Precise LCD display,Full computer control, automatic operation, automatic fault diagnosis.
Sterilization process automatic data printing
Open-type water tank,easy to clean
Sterilizing Tech:
1. Based on the new class B, have 3 pulsating vacuum, Vacuum up to -0.9Bar (-0.09Mpa). Residual humidity is <0.2. Suitable to sterilizing wrap, unwrap, solid, porous, hollow device.
2. Use imported & advanced 16-bit microprocessor, easy to operate. most suitable for the Dept of Stomatology, Ophthalmology, Surgery and Lab.
3. With BD test and vacuum test procedures. To test the penetrability.
4. Chamber punched by Stainless Steel (#304, thickness: 2.5mm), together with the jet type of steam generator, ensure the efficient sterilizing.
5. With alarm system for waste water tank, avoid the waste water to enter into the sterilizing circulation, make the sterilizing completely.
6. Precise LCD display and advanced self-test system ensure you get the working data freely.
7. Double lock door for safety during operating.
8. Optional inbuilt mini-printer or USB connector to record the process of sterilizing.
Model
SUN23-III
Power:2000W
Voltage:AC220V/110V±10%
Frequency:50/60Hz±1Hz
Tank Capacity:23Litres
Appearance size:475X610X410mm
Inside Dimension:Ø249x450mm
Outside Dimension:750×595×525mm
G"W:50kg
SUN18-III
Power:1800W
Voltage:AC220V/110V±10%
Frequency:50/60Hz±1Hz
Tank Capacity:18Litres
Appearance size:475X530X410mm
Inside Dimension:Ø249x355mm
Outside Dimension:675×595×525mm
G"W:47kg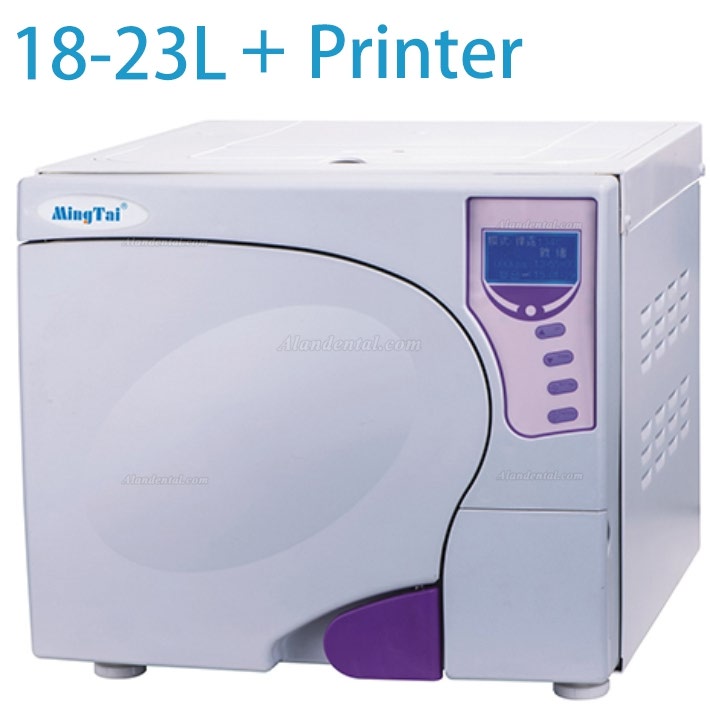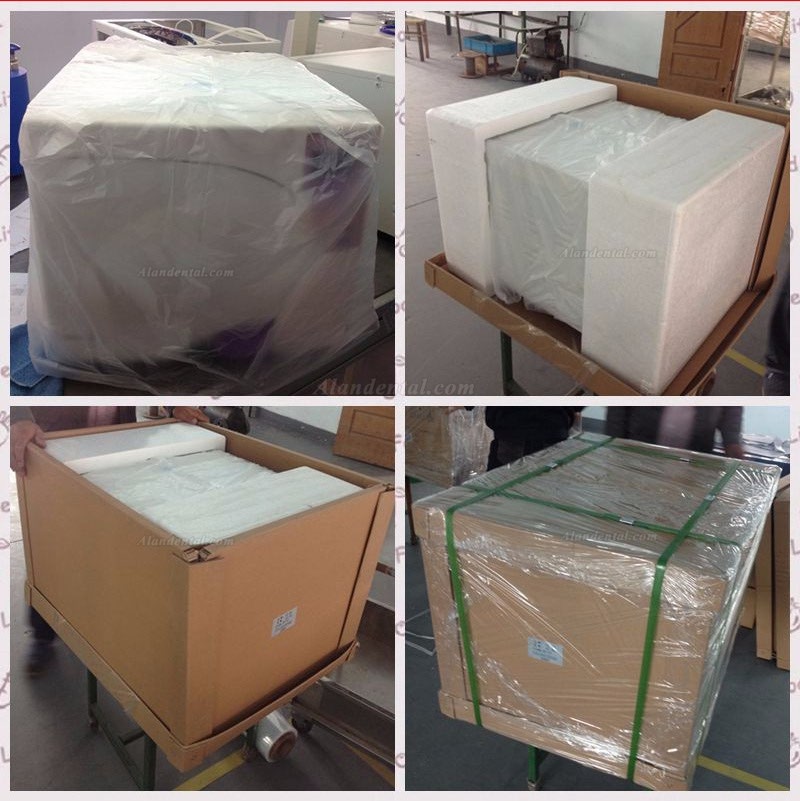 Contact Information:
Live Support: Chat with us online
Email: service.alandental@gmail.com
If you have any problem, please do not hesitate to contact us.
Shipment Note:
If your package shipped by Express Delivery, please give us a valid delivery phone number, and also a full and accurate shipping address.
How to Buy from Alandental?