Features:
The product uses saturated steam to rapidly and efficiently sterilize articles. It can be used in hospitals, public health centers, health stations, clinics in factories and mines, scientific research institutes, etc, to sterilize medical equipment, surgical dressings, glass utensils, solutions, substrata. It can also
be used as cooker in plateau areas and be used to make high quality drinking water in industrial and mining enterprises. Electric or LPG heated.
1. Fully stainless steel structure.
2. Electric or LPG heated.
3. Double scale indication pressure gauge.
4. Easy to operate,safe and reliable.
5. The product is heated by the immersed electro-thermal tube. It featured to quick rise temperature and low power consumption (saving about 50% of energy as compares with electric stove).
6. The container is made of 0Cr19Ni9 (stainless steel), which is not only alkali & acid proof but also more than 3 times more tensile and compressive than aluminum alloy, ensuring safety and service life.
7. The lid is equipped with safety valve and air releasing valve. When the steam pressure exceeds 0.16MPa, the safety valve can automatically release the pressure that is too high, having double safety function and featuring safety and reliability in use. The lid is also equipped with a pressure gauge with megabar and temperature readings, which conveniences the user.
Working pressure:0.14 – 0.16 Mpa
Max. safety pressure:0.165 Mpa
Power:AC220V 110V/50Hz / 2 KW
Safety Measure and Maintenance:
1. This sterilizer is steam pressure vessel so do not impact in using and forbid overpressure. If the pressure pointer of pressure gauge reaches the 0.165MPa and the safety valve does not exhaust, it should stop using at once and check up the safety valve.
2. The pointer should be at zero position before usage the pressure gauge, otherwise the gauge has been failure and it should repair or replace the gauge. The pressure gauge should be regulated 1~2 times per year, ensuring sensitiveness and correctness.
3. Drain the water inside the container and condensing water below the sieve plate and had better wipe out water and deposit on the electro-thermal tube in order to benefit the sterilization quality and prolong the working life.
Gasket is easy to wear. If it does not wok well, see it whether become aging and hard, then replace it in time.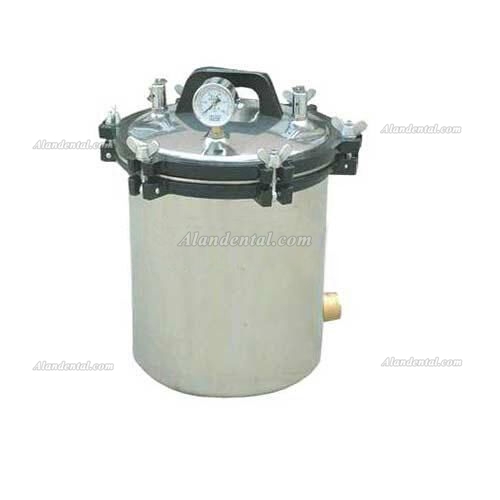 Contact Information:
Live Support: Chat with us online
Email: service.alandental@gmail.com
If you have any problem, please do not hesitate to contact us.
Shipment Note:
If your package shipped by Express Delivery, please give us a valid delivery phone number, and also a full and accurate shipping address.
How to Buy from Alandental?