Features:
This product user pressure saturation to sterilize object quickly and effectively. It is applied to hospital health station, clinics of factories and mines, science and technology research units for sterilizing medical apparatuses, hat, glass-wares, solution and culture mediums. It can provide the highland to use as cooker and in factory and mines for making high quality drinking water.
1. Fully stainless steel structure.
2. Double scale indication pressure gauge.
4. Easy to operate,safe and reliable.
5. The container and sterilizing cylinder adopt stainless steel to be pressed forming and can be acid, alkali and tensile strength proof.
6. The safe valve and air escape valve on the lid of the container can release. The excessive pressure automatically when ten steam pressure exceeds 0.14 MPa. It has double safety function. Equipped with pressure gauge of MPa, convenient for customers to read.
7. The product adopts immersion electrothermal tube to heat. Temperature rises up quickly. It can save energy about 50%compared with electric furnace.
Working pressure:0.14 -0.16 MPa
Working temperature: 126℃
Max. safety pressure:0.165Mpa
Power / consumption:AC220V.110V 50Hz / 2KW
Safety protection device :
1. Water-off & over-temperature protection. When the heating element is heating without water, the power supply will be cut.
2. Over-current protection. If the current exceeds the rated value, the power broken circuit will cut power automatically.
3. Safety valve. When the pressure exceeds 0.22Mpa(34Psi), the sterilizer will automatically exhaust to drop the pressure
l. To ensure the reliability of the sterilization effect chemical indicating piece of biologic indicating piece must be put into the sterilization chamber, together with the: objects to be sterilized. After sterilizing, the sterilization effect can be checked.
2. Safety valve and the exhaust valve are on the top, Safety valve must be checked once every year If it is in malfunction, replace it. If the safety valve is in malfunction during use and the pressure keeps increasing, the power supply must be cut to ensure a safe use.
3. The rubber seal ring is easily aged. If aging causes leakage, the seal ring should be replaced in time.
4. The pressure meter must be standardization every year.
5. The machine must be keeping clean, and protecting the incrustant occurs on the surface, often method is wash it with distilling water once a week.
6. If the overheat protector be damaged, you just take of the round cover on the bottom, and change the protector.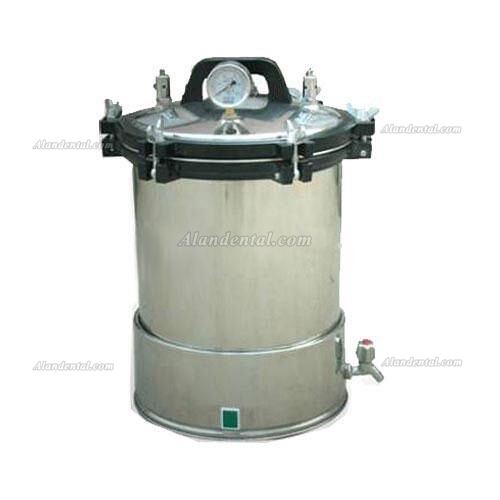 Contact Information:
Live Support: Chat with us online
Email: service.alandental@gmail.com
If you have any problem, please do not hesitate to contact us.
Shipment Note:
If your package shipped by Express Delivery, please give us a valid delivery phone number, and also a full and accurate shipping address.
How to Buy from Alandental?