Dynamic Air Disinfector O3 Air Sterilizer for Home Dental Medical
DLY-30 Mobile Type 90W is for 30 m³ space.
DLY-50 Mobile Type 100W is for 50m³ space.
DLY-100 Mobile Type 150W is for 100m³ space;
DLG-150 Cabinet Type 200W for 150m³ space;
DLG-200 Cabinet Type 250W for 200m³ space.

The patented PEM electrolyzed water technology is used to electrolyze the water in the machine to produce a high-concentration active oxygen disinfection solution. The six-core ceramic core high-frequency atomization system is used to atomize the disinfection solution and then passed it through a high-power axial flow fan to disinfect water mist erupts through the air duct to the entire room. With the diffusion and sedimentation of the atomized airflow, it can kill bacterial aerosols, droplets in the air, and various bacteria that settled on the surface of the object.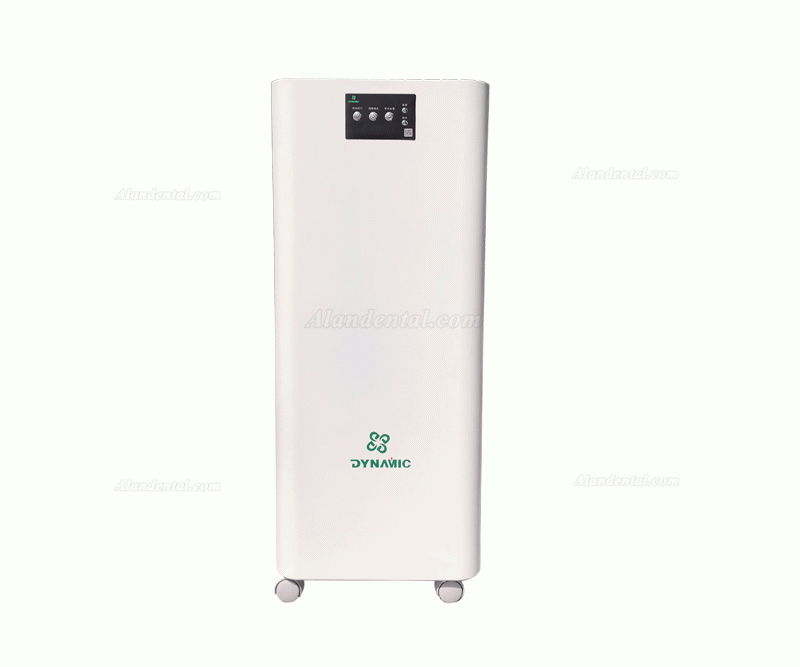 O3 Air disinfector Features:

1: 6pcs working core, large aerosolized amount, can fill the room quickly, prepare disinfection quickly.(After electrolysis for 10 minutes, atomization for 30 minutes, negative ion air purifying for 10 minutes, then you can enter the room)

2: Using PEM water electrolysis technology, produce ozone water in high concentrations, compared with corona method to produce ozone,it would not produce harmful gases, more environmental, ozone production would be more efficient.

3: Automatic timing turn on/off (new edition), reduce the manual operation, more convenient and safe.

4: Upper filler, more convenient operation. 20L water tank, no need to fill warter frequently, long service life.

5: HEPA efficient filter, it can filter PM2.5,PM0.3, large particle dust and some bacteria effectively, after the 100 million rank negative ion air purifying, air would be more fresh and clean.

6: Low noise, working voice about 50dB.

7: Portable design and it is convenient to move to any location.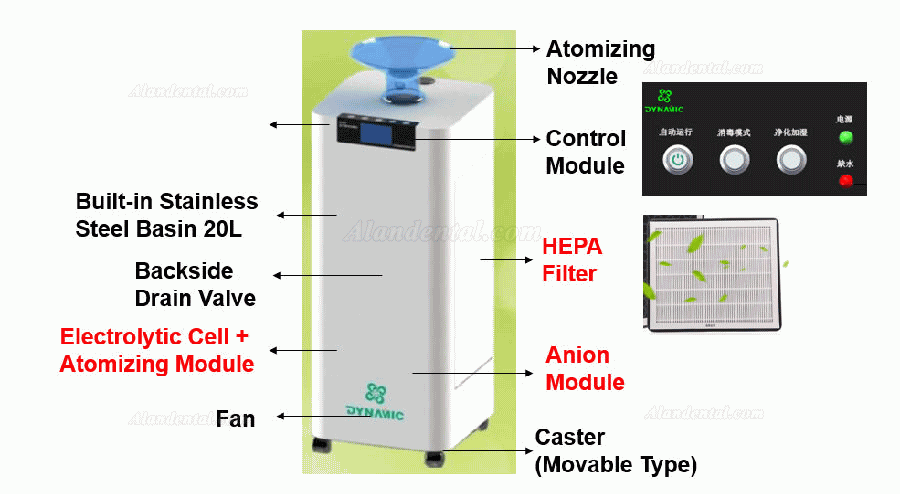 Application method:

1: Add water into the tank.

2: Connect the power cord to the socket, set the switch to position 1.

3: Operation panel is as follow;

Automatically operation: Turn on the switch, electrolysis for 10 minutes firstly, electrolysis and atomization work at the same time, spray the disinfectant into the room. After spray for 30 minutes, start the anion generator, working 10 minutes to purify air, then whole process is over.

Disinfection modes: Turn on the switch, electrolysis for 10 minutes firstly, electrolysis and atomization work at the same time, spray the disinfectant into the room. After spray for 30 minutes, press the botton to stop working.

Humidifying purification: press the button, start the anion generator and atomization at the same time, press the button to stop working.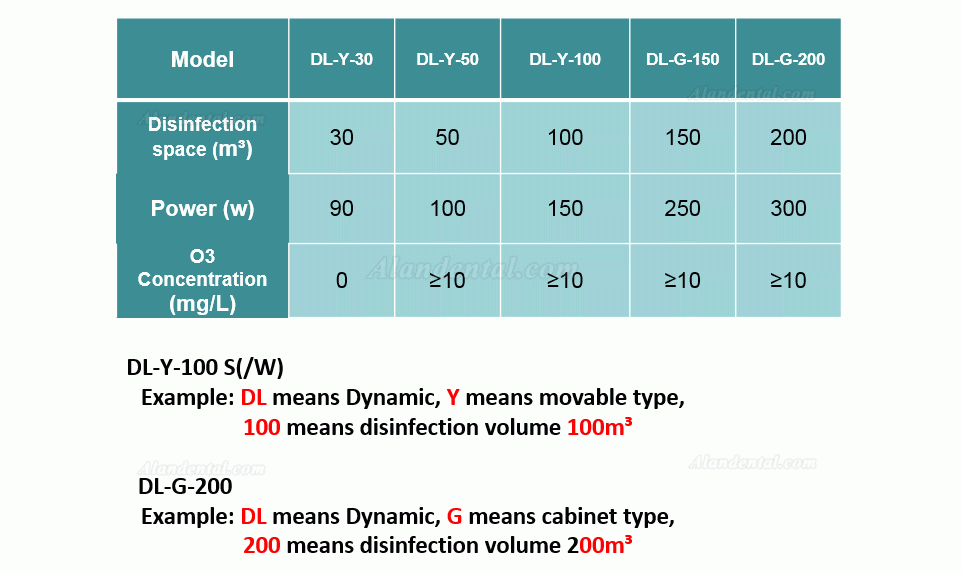 Caution:

•O3 disinfection machine can use tap-water directly.

•During ozone disinfection, it can't have man-machine coexistence, it can be set accordingly as disinfection in the morning and night once a day (The new board can set timing switch time, it won't affect the usage).

•It is normal if any few ozone smelling during working.(In human existing condition, the indoor air 1h average maximum allowable ozone concentration is 0.1 mg/m, it meets the GB/T 18202) requirements.

•Device has self protection procedure, red indicator light lights up automatically when water shortage, should add water timely.
Contact Information:
Live Support: Chat with us online
Email: service.alandental@gmail.com
If you have any problem, please do not hesitate to contact us.
Shipment Note:
If your package shipped by Express Delivery, please give us a valid delivery phone number, and also a full and accurate shipping address.
How to Buy from Alandental?