Dentium XGSSK Digital Guide Surgery Kit (Simple Kit) Dental Implant Instrument Kit
Lately, Digital Dentistry has attracted attention from clinicians, and with this wave of change, Dental Industry is focusing more on the realization of simple and precise implant surgery with digital technology.

Surgery Preciseness
The most important key point in Guided Surgery is to do the most precise surgery by reducing the error range as much as possible. To step forward, Simple Kit and Full Kit have been developed, which are upgraded to more accurate positioning and ease of use. The Simple Kit is an optimized kit for clinicians who want to obtain accurate depth and position in a narrow ridge during guided surgery. Full Kit is configured to be able to proceed from drilling to fixture placement.
In addition, with the step drill, it is helpful to secure the accuracy and the convenience of surgery by obtaining the guide section with a consecutive drilling. Stent is made of USP Class 6 certified material, and due to the excellent strength of the material it is possible to apply the non-sleeve type.
Surgery Convenience
In Simple Kit, Ø3.0 sleeve hole is applied to minimize the constraints of planning due to the interference of adjacent teeth. There are 3 types of sleeves: Ti Sleeve, Non Sleeve, Open Sleeve. When it is impossible to use sleeve due to the small gap between teeth, Non Sleeve can be applied. When there's a restriction on the distance between maxillary and mandible in the posterior site, Open Sleeve is able to be applied to place a fixture without any restriction at all.
In addition, since the Guide Height is 9.3mm (Including the 4mm-thickness of the sleeve), it can not only be more easily used in the posterior part where it has less accessibility than other parts, but also it can be performed as a stable and accurate Guide during the Flapless surgery. Flat drill can be used on the narrow ridge and the irregular alveolar bone to form the flattened alveolar bone. It can be also used to prevent the bone interruption in advance which might be able to be occurred during the second stage surgery.
Furthermore, IOS Scanning Jig which can have both functions for Digital Impression and Healing Abutment, is about to be launched. This Scanning Jig is made up of PEEK materials for the realization of superior strength and color, and concave design is applied on the G/H part to be suitable for using customized abutment.
With the Guided Surgery system, it is possible for a user to do the most accurate and the fastest surgery and it gives satisfaction to both a patient and a user due to its functional value.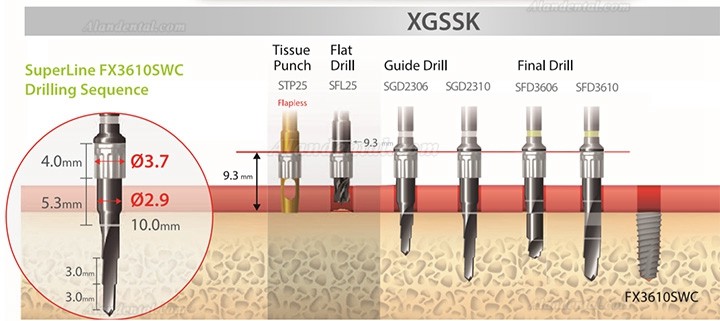 Contact Information:
Live Support: Chat with us online
Email: service.alandental@gmail.com
If you have any problem, please do not hesitate to contact us.
Shipment Note:
If your package shipped by Express Delivery, please give us a valid delivery phone number, and also a full and accurate shipping address.
How to Buy from Alandental?