CMS50DL1 Fingertip Pulse Oximeter
Description
A pulse oximeter is a medical device that indirectly measures the oxygen saturation of a patient's blood (as opposed to measuring oxygen saturation directly through a blood sample) and changes in blood volume in the skin, producing a photoplethysmograph. It is often attached to a medical monitor so staff can see a patient oxygenation at all times. Portable battery-operated pulse oximeters are also available for home blood oxygen monitoring.
The Fingertip Pulse-Oximeter is registered on the Australian Register of Therapeutic Goods (ARTG) with the code 136606, and certified by FDA of United States and CE,TUV of Europe.
Instructions
Principle of the CMS50DL1 Pulse Oximeter is as follows: Photoelectric Oxyhemoglobin Inspection Technology is adopted in accordance with Capacity Pulse Scanning & Recording Technology, the Pulse Oximeter can be used in measuring the pulse oxygen saturation and pulse rate through finger. The product is suitable for being used in family, hospital, oxygen bar, community healthcare, physical care in sports
(It can be used before or after doing sports, and it is not recommended to use the device during the process of having sport)
Major Features
Integrated with SpO2 probe and processing display module
Small in volume、light in weight and convenient in carrying
Operation of the product is simple ,low power consumption
SpO2 value display
Pulse rate value display, bar graph display
Low-voltage indication: low-voltage indicator appears before working abnormally which is due to low-voltage
Automatically power off function: when the device is under the state of measuring interface, it will automatically power off within 5 seconds if the finger falls out of probe.
Technical specifications
Display Mode: LED display
SpO2 Measuring Range: 0%~100%, (the resolution is 1%).
Accuracy: 70%~100%: ±2% ,Below 70% unspecified.
PR Measuring Range: 30bpm~250bpm, (the resolution is 1bpm)
Accuracy: ±2bpm or ±2% (select larger)
Measurement Performance in Weak Filling Condition:
SpO2 and pulse rate can be shown correctly when pulse-filling ratio is 0.4%. SpO2 error is ±4%, pulserate error is ±2 bpm or ±2% (select larger).
Resistance to surrounding light: The deviation between the value measured in the condition of man-made light or indoor natural light and that of darkroom less than ±1%. Power Consumption: less than 25 mA Voltage: DC 3.0V
Power Supply: 1.5V (AAA size) alkaline batteries × 2
Battery working hour: The minimum continually work time is 24 hours, theoretical number is 56 hours.
Safety Type: Interior Battery, BF Type
Accessories
Sell in standard
A hanging rope
A user manual
Physical Identity Dimension: 61(L) × 36(W) × 32(H) mm Weight: About 50g
Inside The Box
Pulse oximeter
Pouch
Hanging belt
Manual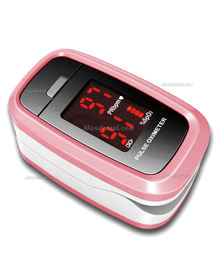 Contact Information:
Live Support: Chat with us online
Email: service.alandental@gmail.com
If you have any problem, please do not hesitate to contact us.
Shipment Note:
If your package shipped by Express Delivery, please give us a valid delivery phone number, and also a full and accurate shipping address.
How to Buy from Alandental?