Woodpecker® Dental Ultrasonic Piezo Scaler DTE D3
Features
1. Digitally controlled .mostly effcient in scaling.
2. The material of the detachable handpiece is made in America .and the handpiece can be autoclaved under the high temperature of 135 C and the pressure of 0.22MPa.
3. Avoiding Cross infection effectively.
4. The handpiece has claimed for many patents and fake product must answer for its legal responsiblites.
5.Compatible with Satelec` handpiece and tips
6. Three functions:Scaling, perio,Endo,Curing light(LED)(optional)
7. The handpiece is cast from Titanium alloy to ensure sound mechanic function and durability.
8. Assembled with excellent piezo-ceramic,the handpiece has high and long lasting power and generates little heat.
9. Avoiding Cross infection effectively.Skidproof handoiece.The nipple can be cleaned.
10. The materialn of the handpiece made in Amrica is appointed as aero plastic components in Europe and America ,which is FDA and NSF certificated.
11. The cable is made from silica gel tube ,soft and durable.
12. Six pieces of scaler tips attached ,1pieces of GD1,1pieces of GD2,1pieces of GD3,1pieces of GD4,1pieces of PD1,1pieces of ED1.
13. The scaler tip is made of special material .The cavitation produced from the end of the scaling tip makes the cleaning of teeth and the killing of germ easy.
14. Digitally controlled ,automatic frequevency tracking ensures that machine always works on the best frequency and more steadily .
15. Eliminating the dental calculus ,bacterial plaque and tea scales on the teeth quickly without hurting the qum or the enamel.
16. Small and light,easy operation.
Technical specifications
Power Input 100v-240v~50Hz/60Hz 1.2A (MAX) Water Pressure 0.01MPa~0.5MPa
Main Unit Input 30VDC 1.3A Dimension 200mm *134mm *80mm
Output Power 3w~20w Main Unit Weight 0.64kg
Frequency 28kHz+/-3kHz Adapter Weight 0.3kg
DTE D3 Packing list

Package With
Main unit 1
Detachable handpiece 1
Adapter of power supply 1
Foot switch 1
Scaling tip GD1 2
1x Scaling tip GD2
1x Scaling tip GD4
1x Scaling tip PD1
1x Torque Wrench
1x Water pipe
4x Waterproof "O"ring
1x Qualified certificate
1x Packing list
1x Instruction manual
1x Warranty card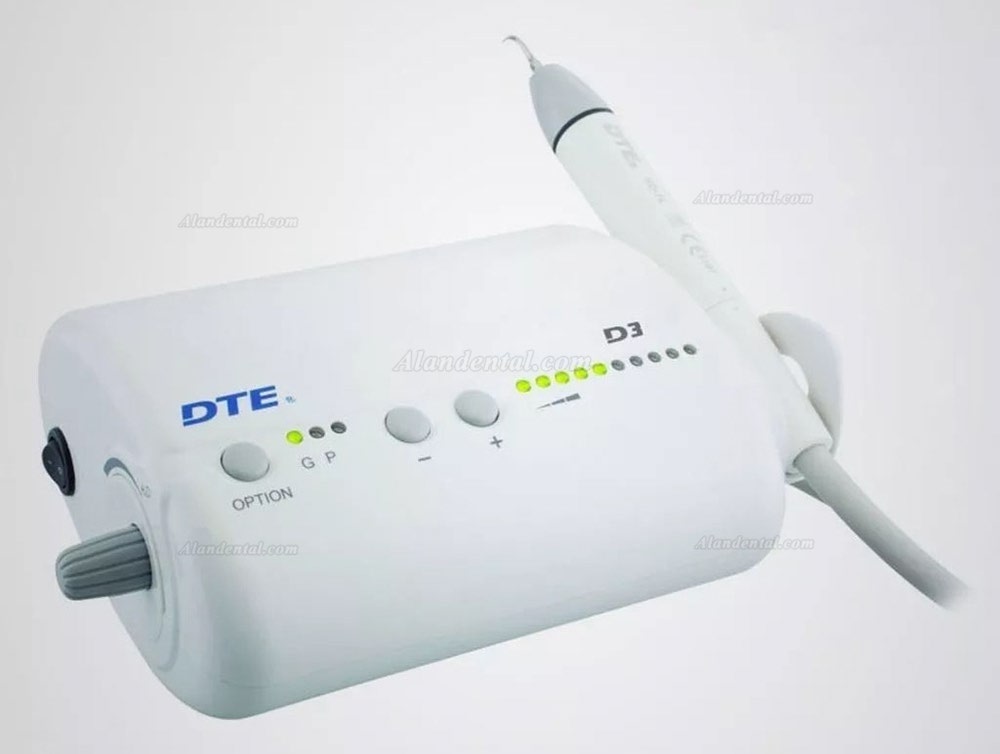 Contact Information:
Live Support: Chat with us online
Email: service.alandental@gmail.com
If you have any problem, please do not hesitate to contact us.
Shipment Note:
If your package shipped by Express Delivery, please give us a valid delivery phone number, and also a full and accurate shipping address.
How to Buy from Alandental?