Vrn Q6 Dental No-pain Ultrasonic Scaler + Air Polisher
Ultrasonic + Sand-Blasting Perfect Combination!
1. NO PAIN ultrasonic periodontal treatment
2. Fast and comfortable supragingival scaling
3. Efficient and thorough endo cleaning and root canal preparation
4. Removing dental plaque at supraginggival and subgingival
5. Implant maintenance with zero damage
Intelligent Touch Control System
Highlight color LED, 3.5"TFT LCD panel Waterproof, can be operated by wet finger or with gloves.
Slidable power adjustment, precise selection.
New Wireless Control, VRN Exclusive Patent
More Convenient Water Adjustment
We gave up the cheaper and simpler traditional water adjusting valve. In order to make the treatment easier and no need to touch the device again, we make the water adjustment at the handle of the 2 handpieces.
It' s more precise and smoother.
2 Ways of Preservative Water SupplyOne-button switch the water bottle.
Thoughtful LED indicator light shows the currently used bottle.
Hydrogen peroxide and Sodium hypochlorite are available.
Prevent Misuse System The device may alarm when:
- Scaler tip is not tightened
- Step on the footswitch but haven' t picked up the handpiece.
- Step on the footswitch and pick up both 2 handpiece
Pick up any handpiece, the working mode will switch to the corresponding mode.
NO-PAIN Ultrasonic Periodontal Treatment
Ultrasound frequency 27,000-33,000-Hz Smaller amplitude than normal scalers 15-80um
Titanium alloy hardness: HRC 30
Stainless hardness: HRC 50
Enamel hardness: HRC 50-60
Cementum hardness: HRC 30-40
The real elliptical vibration, reduce friction between teeth and tips.
Sand Blasting -Air Polishing
The best prophylaxis method for plaque
Plaque --the root cause of tartar, periodontal disease.
Old air polishing machine -only supragingival, only 1 kind of sand, sand powder large, hard to select polishing site VRN-Q6-supragingival and subgingival, 3 kinds of sand, smallest sand owder, teeth surface is smoother after treatment.
Sufficient Accessories and Tips Meet all the needs of treatments
> Scaler handpiece x 2
> Air Polishing handpiece x 2
> Supragingival air polishing tip x 1
> Subgingival air polishing tip x 10
> Stainless scaling tip x 5
> Titanium perio scaling tip x 8 (P11,12,12L,12R)
> Stainless perio scaling tip x 4 (P13L,13R)
> Implant maintenance tip x 2 (M1)
Subgingival treatment, only EMS and VRN have. Smallest sand powder, no pain.
Soft supragingival treatment, no pain, can reach the teeth gap.
. Sodium bicarbonate (NaHCO 65 um)
Traditional air polishing sand powder, little pain, harder than Glycine.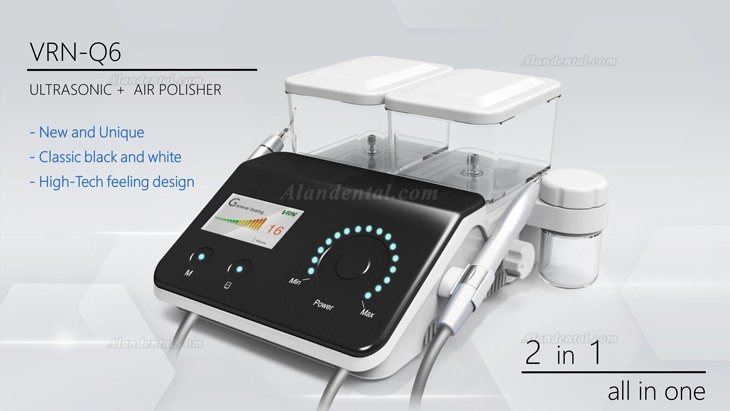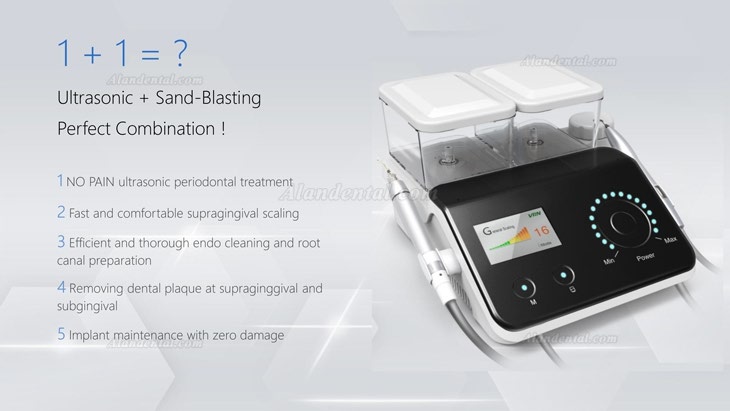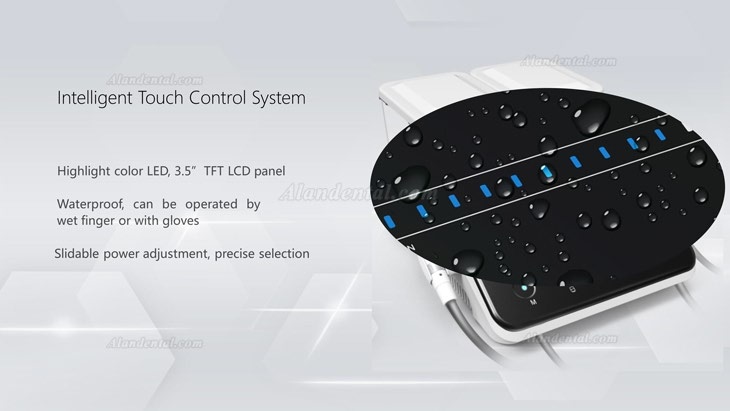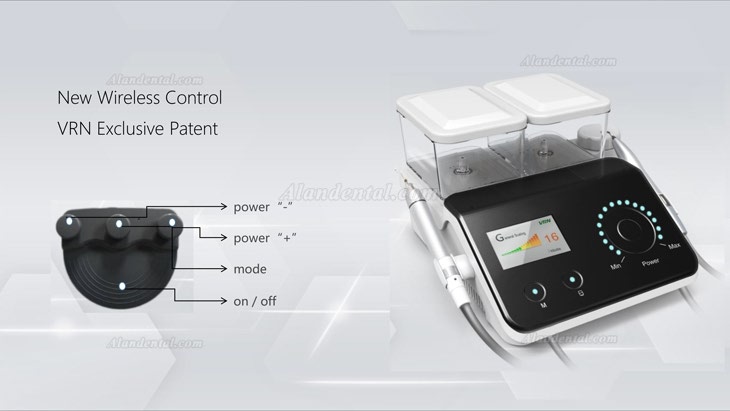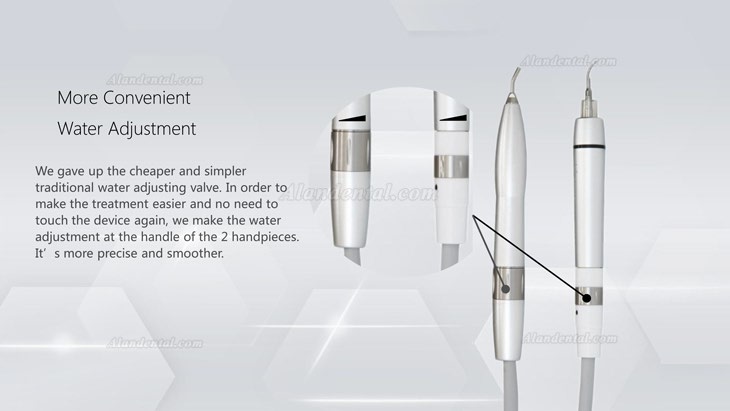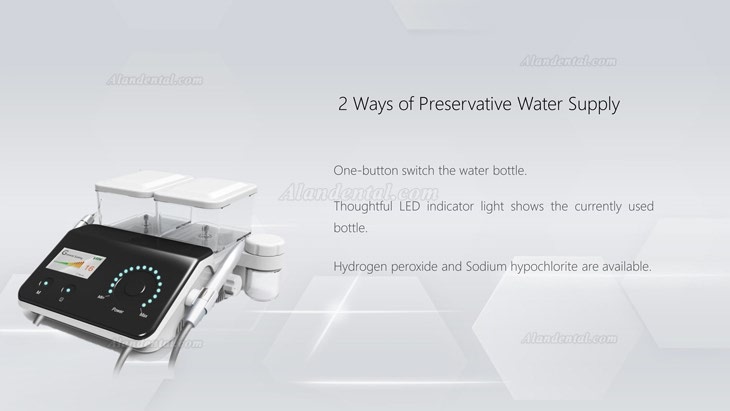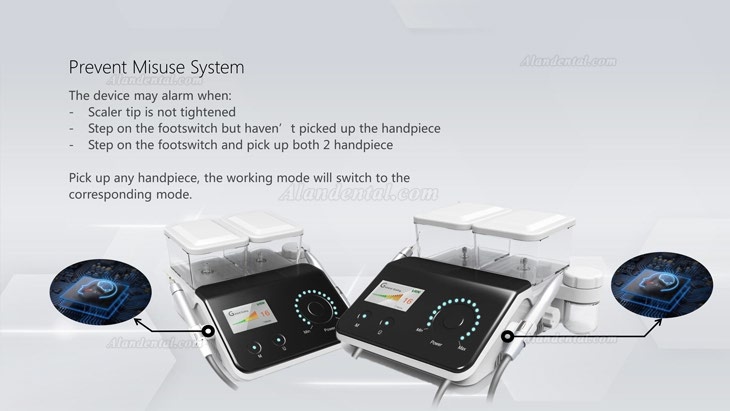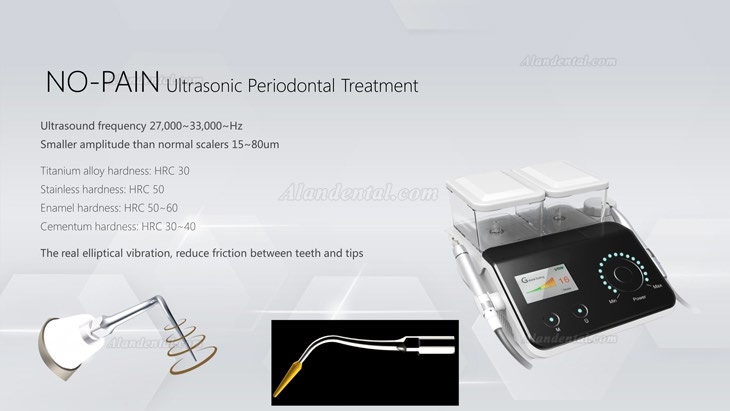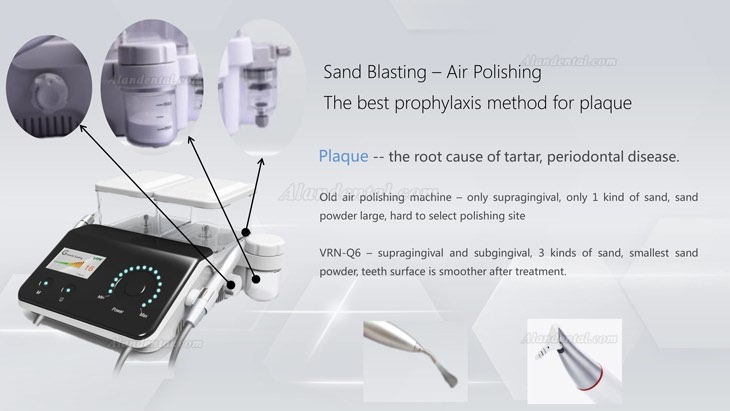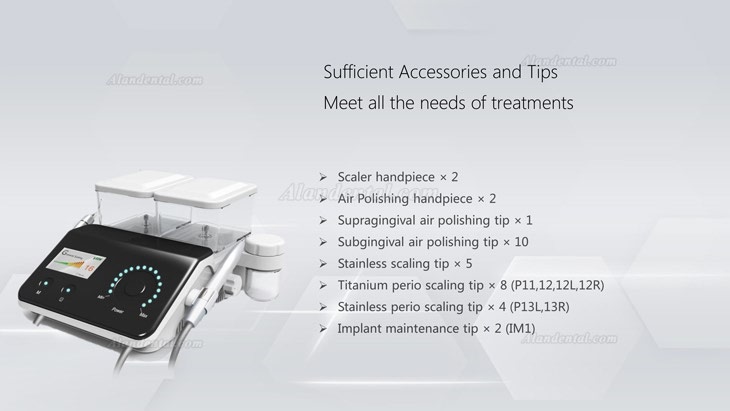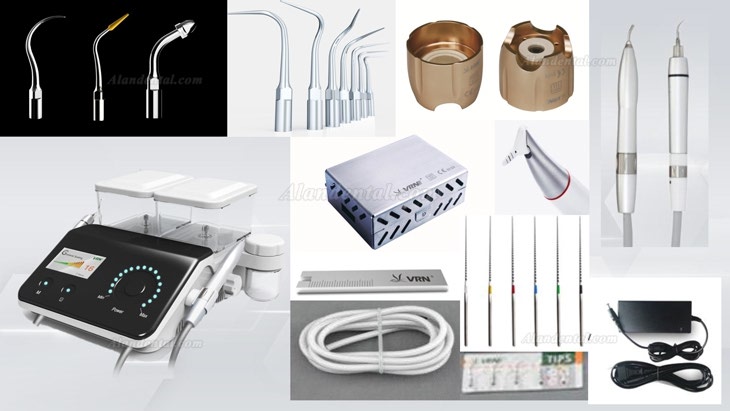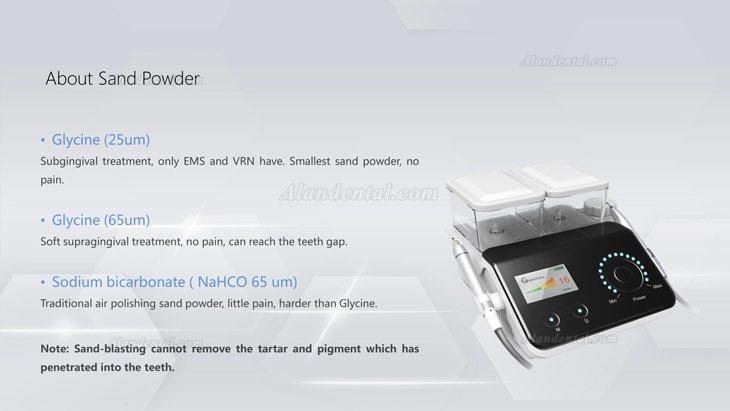 Contact Information:
Live Support: Chat with us online
Email: service.alandental@gmail.com
If you have any problem, please do not hesitate to contact us.
Shipment Note:
If your package shipped by Express Delivery, please give us a valid delivery phone number, and also a full and accurate shipping address.
How to Buy from Alandental?