Tong shuo® TS-D-14N(D) Dental Autoclave Sterilizer Class N 14L
Description:
1. 4 new technology; Multi-protection safety lock; Wide liquid crystal screen; Steam compensation techniques; Doublestage tandem type vacuum pump
2. Japan vacuum pump; Noise is less than 60db, vacuum pump can highly reach -0.8KG/cm2, vacuum pumping efficiency is 30% higher than similar sterilizer.
3. Italian CEME liquid pump
4. Italian CEME valve body
6. Three times pulsation vacuum, the final vacuum can be up to -0.85bar, which ensure the air can be evacuated efficiently and achieve to saturated-vapor state. Thus the steam can completely permeate into the article with lace fabrics, hollow appliances (like handpiece) and packing articles, which is very important to sterilizing.
7. The humidity after Vacuum drying is less than 0.2%. The pulsing work equipped with double series vacuum pump when in the process of whole pulsing.
8. Separate steam generation technology, appliances are safer, disinfection are faster. Combines the steam compensation technique, ensure the 134 degreen moist heat sterlization as required by appliance.
9. Preset 8 concrete programs are listed according to their actual frequency of use. And what's more, added a hemophilus inactivation program.
10. Automatic door open and close system.
11. Fully automatic operation, the whole process computer self check and monitor.
12. Disintection process self evaluation system.
13. SKU: TS-D-14N(D)-110 TS-D-14N(D)-220
Chamber Dimensions(mm)(Φ×D): 250×270
Chamber Capacity(liter): 14L
Overall Size(cm)(L×W×H): 48×48×42
Power supply: 230VAC ± 10% 50HZ/10A
Control type: Full automatic microprocessor
Bacteria filter: Standard
Appliance tray: Stand 3 tayers
Operation enviroment: +2-40 indoor operation
Max relative humidity: 85%
Sterilizer Construction: 121/134
Stainless steel instrument container: Stainless steel SUS#304
1. LCD Display, 2 program easy to choose
2. Automatically feeding water and excess water and air to be drained away.
3. Show the reason of failure on LCD directly
4. Class N model, sterilize unpackage solid instrument, used widely in beauty and tatoo salon.
a. Over heat control: When inner temperature is over heated, power will be shut down automatically and alarm system
b. Over pressure control: It have alarm system when over tempeature
c. Safety door lock system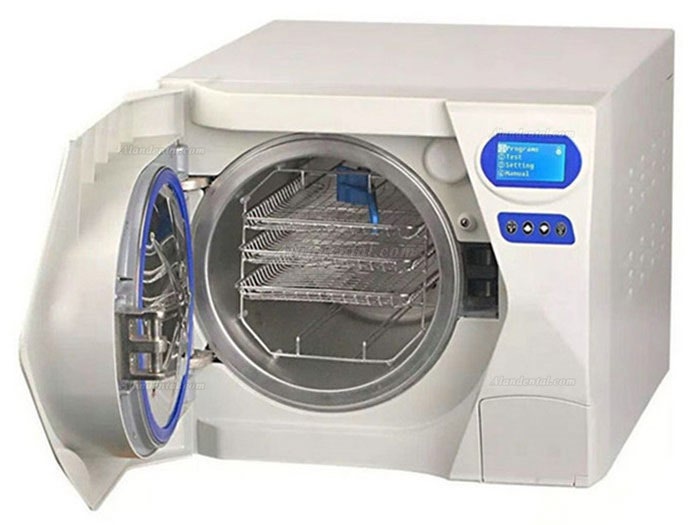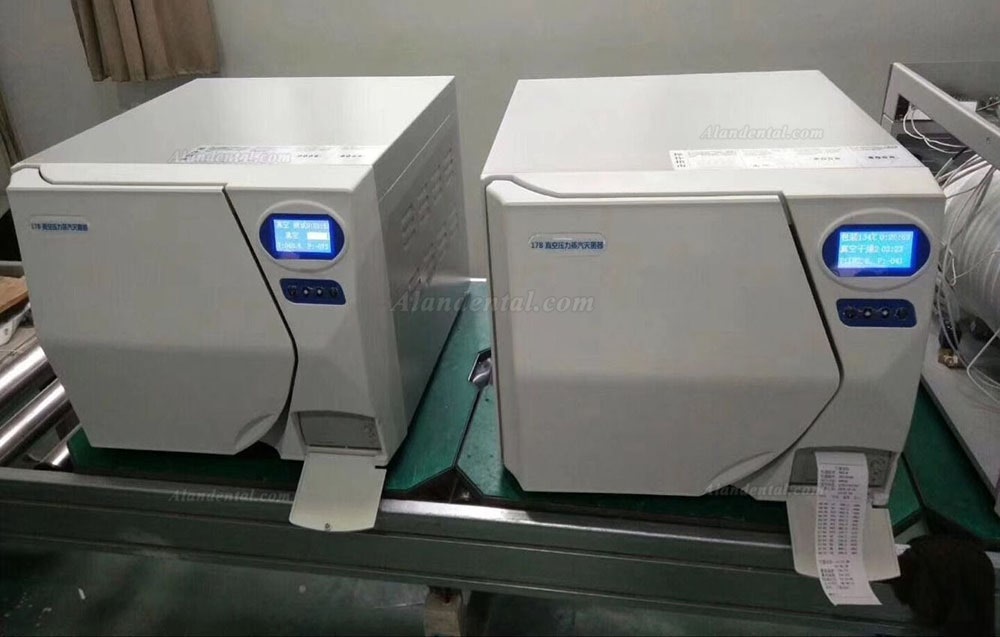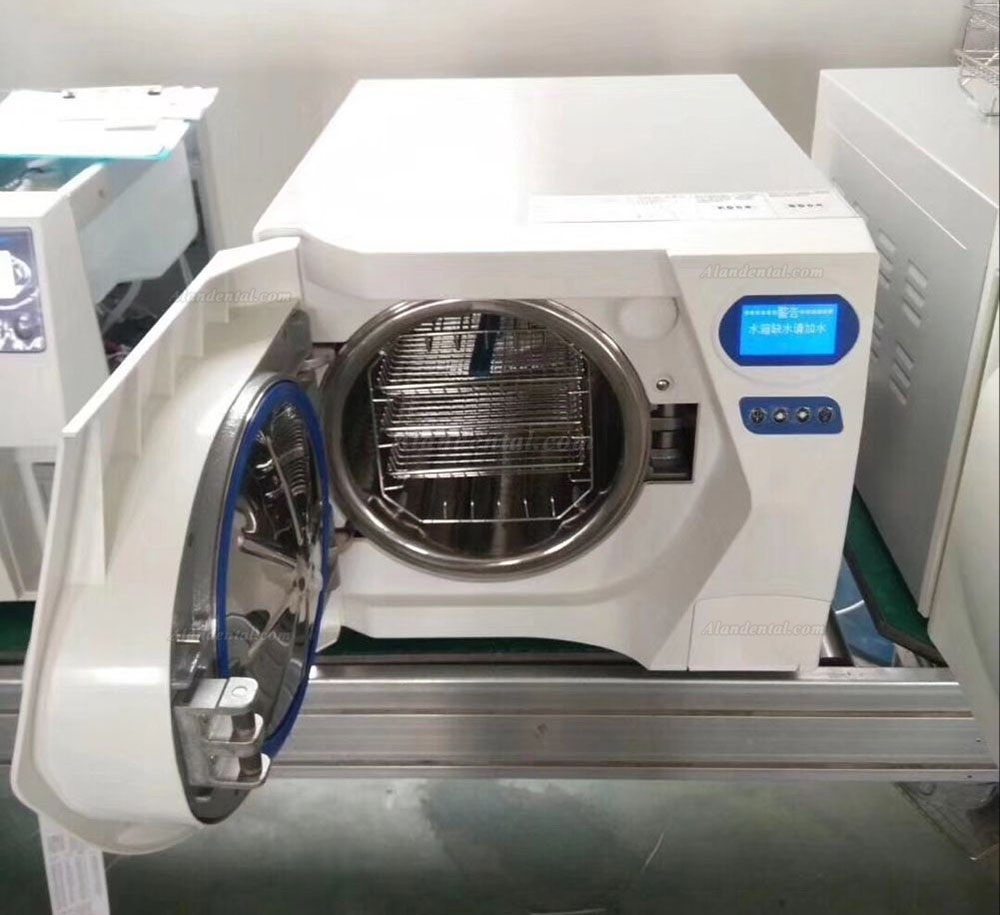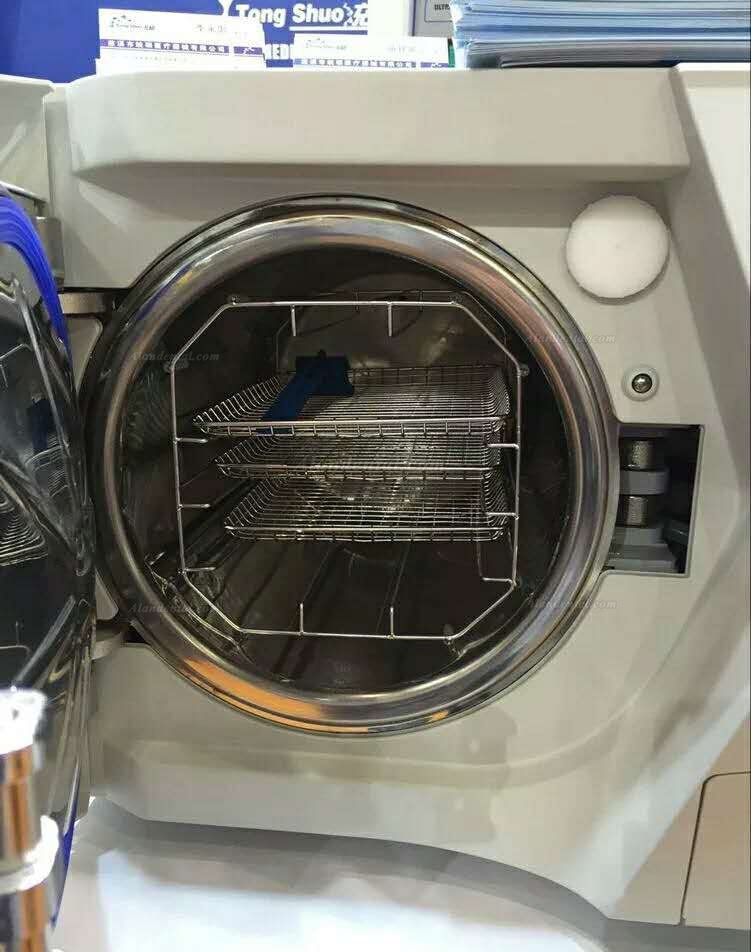 Contact Information:
Live Support: Chat with us online
Email: service.alandental@gmail.com
If you have any problem, please do not hesitate to contact us.
Shipment Note:
If your package shipped by Express Delivery, please give us a valid delivery phone number, and also a full and accurate shipping address.
How to Buy from Alandental?