Tuojian TJ2688 B2 Dental Chair Treatment Unit Computer Controlled Integral PU Leather
Before you buy,please read the following information carefully:
Δ First ,The dental unit must be sent via ocean shipping(you need to offer a local port) because of its weight.
ΔSecond, After everything we talked about is cleared, we will order it from the manufacturers.
ΔThird,Sometimes we need to wait because of so many orders from factory. And sometimes we need to wait the shipping. All of these will take about many days, it usually costs about 20 days.
ΔThe most important, when the item arrives,it need to make the custom clearance for ocean shipping. as buyer ,you need pick it up from the port by yourselves.
Import duties, taxes and charges are not included in the item price. These charges are the buyer responsibility. Extra pay USD400,We can make the custom clearance If you could not.
Features:
1. All controlled by electric valve.
2. DC Motor.
3. Assistant controlled system by touchpad.
4. Automatic thermostatic water supply system.
5. Triple-fold and wider dental chair.
6. Handpiece tubing with standard fittings.(3 sets)
7. Three way springe(one for hot, one for cold,total 2 sets)
8. Water suction and saliva ejector.(1 set)
9. Powerful suction(HVE)apparatus.(1 set)
10. Easy cleaning integral and turnable ceramic spittoon.
11. Built-in water purified system with bottle.
12. Strong and weak dual-way LED cold lamp.(1 set)
13. Low-tension X-film viewer.(1 set)
14. Paper cup device.
15. Spirit lock tight equilibrium device.
16. Console model side unit with floor junction box.
17. Doctor stool.(1 set)
18. Suitable for adult and children headrest.
19. Three programmable positions.
20. Multifunctional foot pedal.(1 set)
Voltage:110V-240V,50Hz/60Hz
Air Pressure:0.55MPa
Water Pressure:0.2MPa-0.4MPa
Instrument Tube:Standard down mounted, optional: top mounted
Color:7 Colors Optional
Spittoon:Turnable ceramic
Packing Size:136*95*112cm
Net Weight:250kg
Gross Weight:300kg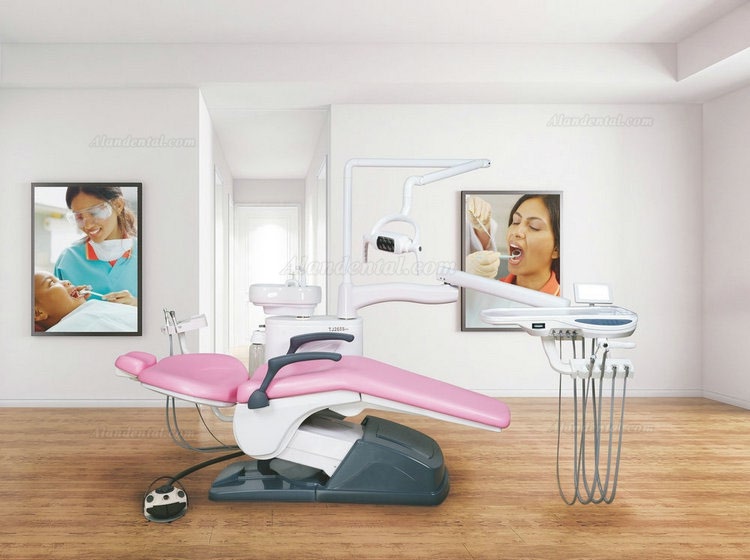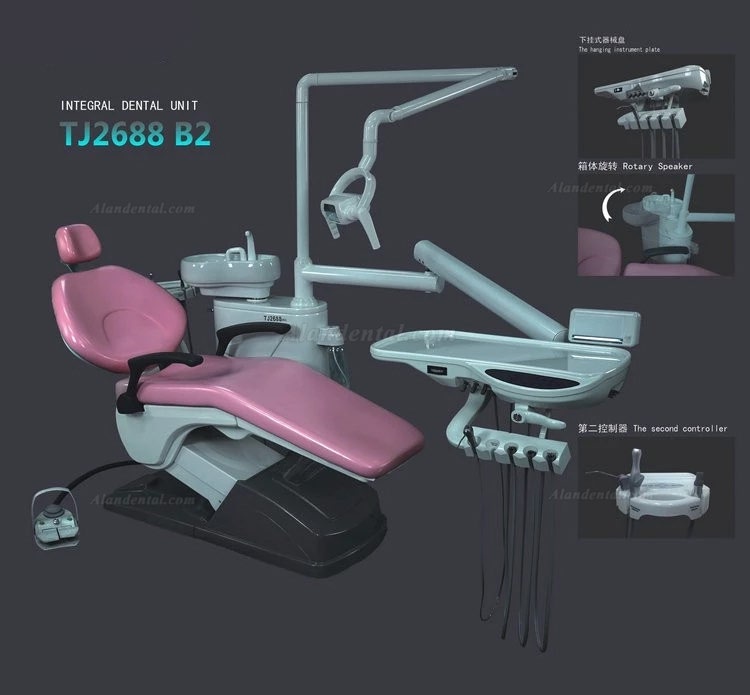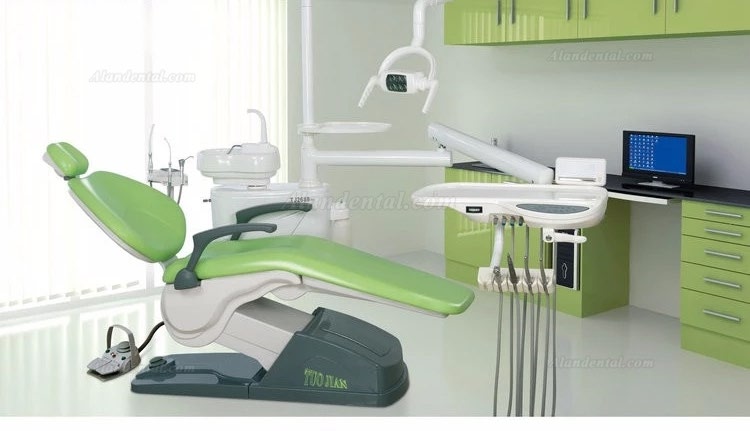 Top-mounted instrument tray(bottom-mounted instrument tray is optional)
All the pipelines inside the instrument tray use water pipes and air pipes with acid and alkali resistance, its normal service life is 3 years.
With 5 fixed instrument holders, the instrument tray can satisfy the dentist's various surgical needs.
The handpiece rack of the instrument tray is designed with a balanced sense, and its height and inclination is suitable for putting instruments, guaranteeing the dentist can conveniently change tools during dental surgery.
The instrument tray adopts 40×70mm size design, so as to maximize the space for dentist to put surgical supplies and tools.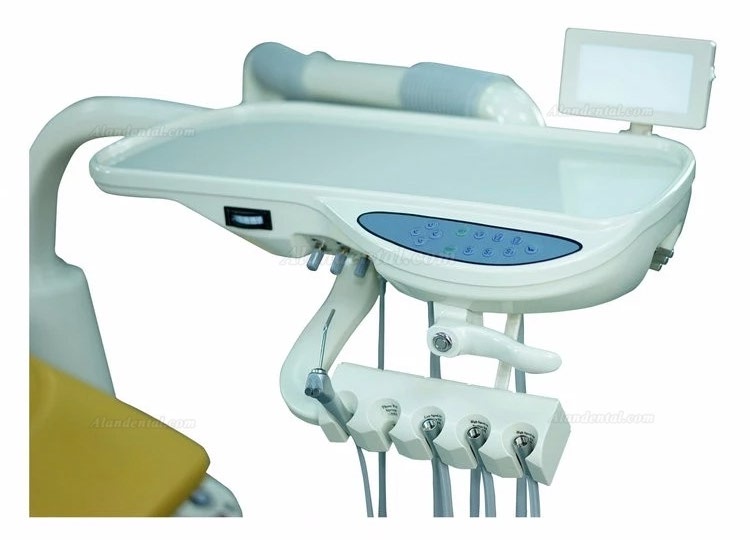 Chair for the dentist (1 set)
The surface of the dentist' chair is made of leather, which prevents the dentist from sliding down during operation.
It can rotate 360°, convenient to take instruments or clean tools. With 5 stable casters and backrests, it makes sure the dentist remain upright in the treatment.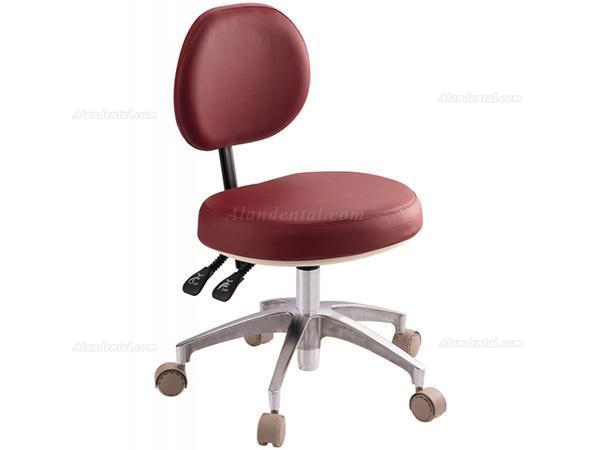 Simple key board
The board is designed, with all its keys raised.
Different keys have different simple patterns on them to identify its function.
Commonly used keys locate in conspicuous positions, convenient for the dentist to operate with.
With seat lift control button, backrest up-down control button, rinsing mug quantitative water button, spittoon water button as well as constant temperature heating water button, the key board makes it convenient for operation in the entire treatment.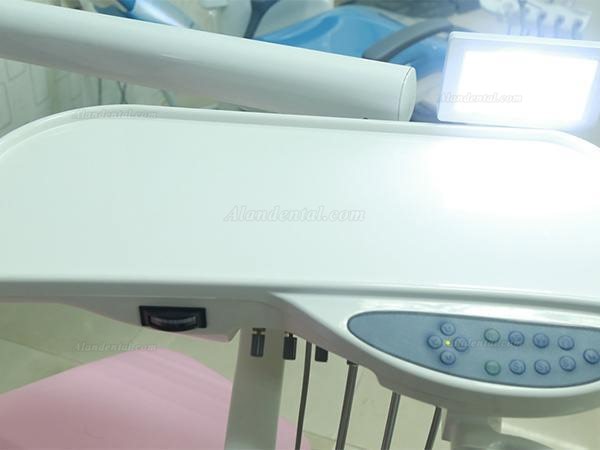 Multi-function assistant console
The console is designed with a raised outline, in case the instruments on it slide down.
There are simple chair control button board, chair lift control button, backrest up and down control button, spittoon flush button and rinsing mug water supply button on the console.
The rack of the assistant console is equipped with standard strong air water suction and saliva ejector , hydrodynamic water suction and saliva ejector, as well as three way syringe(can use hot water).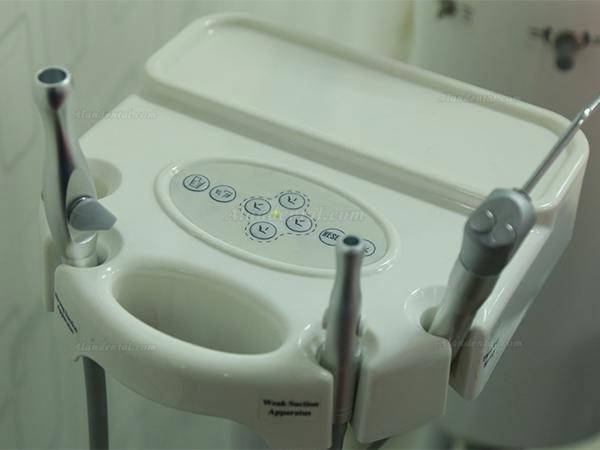 Adjustable pillow
The patients is able to move their head easily through the adjustable pillow.
Realize ergonomic design to ensure the patients keep comfortable in the course of treatment.

Automatic thermostatic water supply system
The system makes sure the patients have a more comfortable experience rather than cold water stimulation.

Handpiece tubing with standard fittings (3 sets)
It is for placing the spare handpiece during operation, in order to prevent the handpiece from being randomly put on table and contaminated.
Ceramic spittoon
The ceramic spittoon has smooth surface and is easy to clean, which can quickly remove blood and oil stains as well as disinfect.
The spittoon can rotate 180°, making it convenient for the patients to use directly in the chair while they do not have to stand up, as well as for the dentist to clean the instruments in time.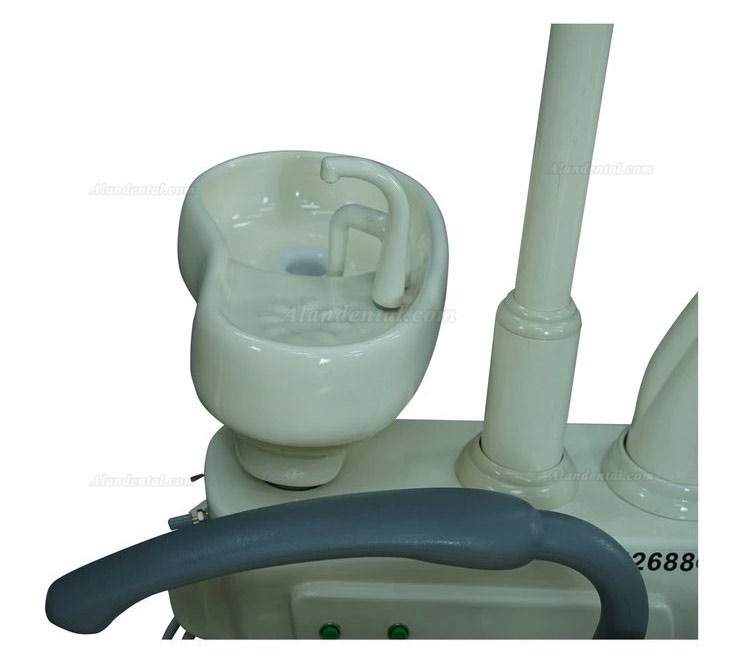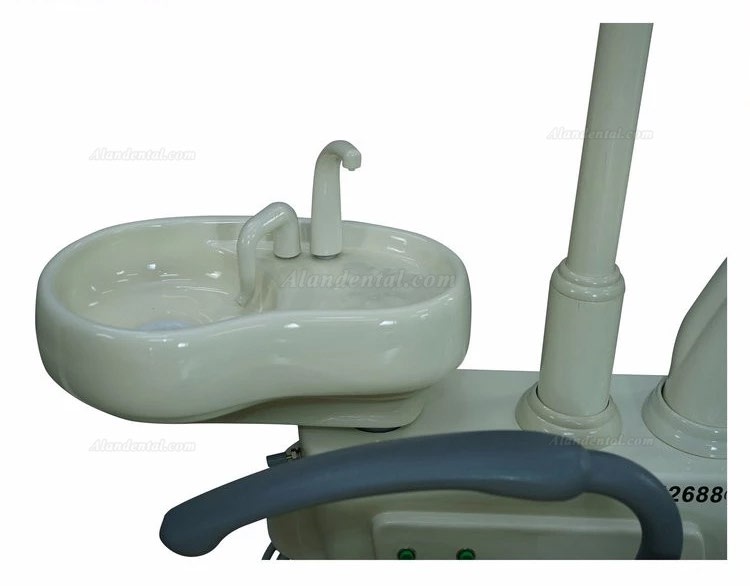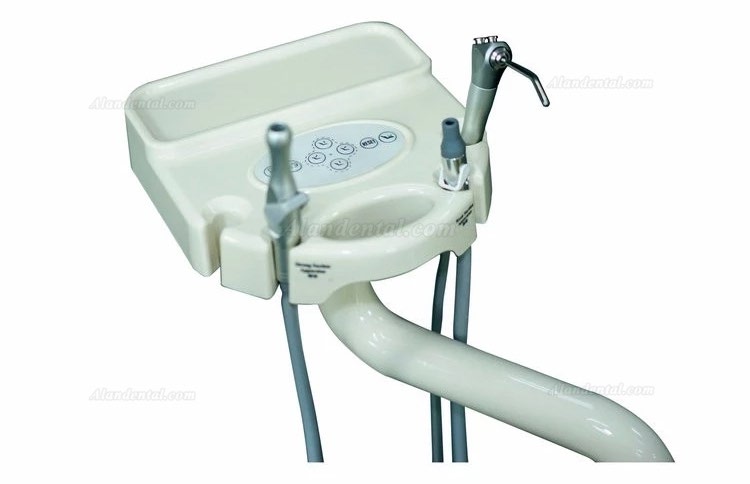 Multi-function foot switch (1 set)
The dentist can adjust the patient' chair by the foot switch, while his hand is free that he can concentrate on the treatment.
The multi-function foot switch can not only control the lift of the chair and the position of backrest, but also the flush of the spittoon and the water outflow of the rinsing mug.
In addition, it is more hygienic to prevent the dentist from touching the button.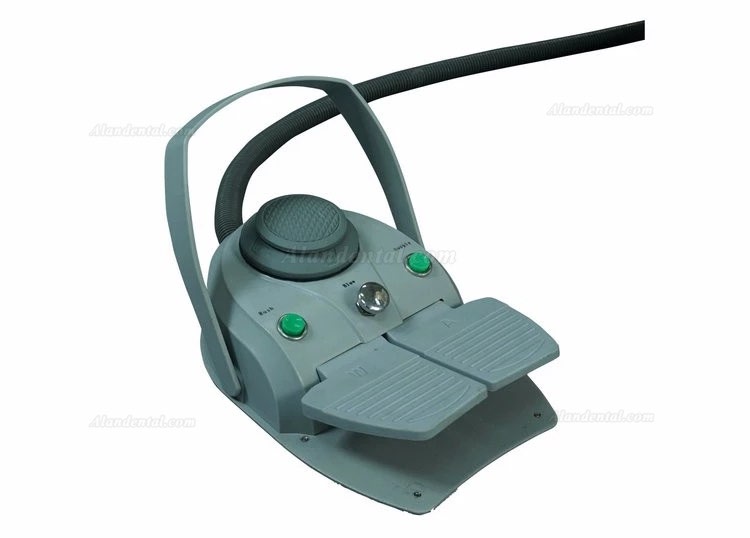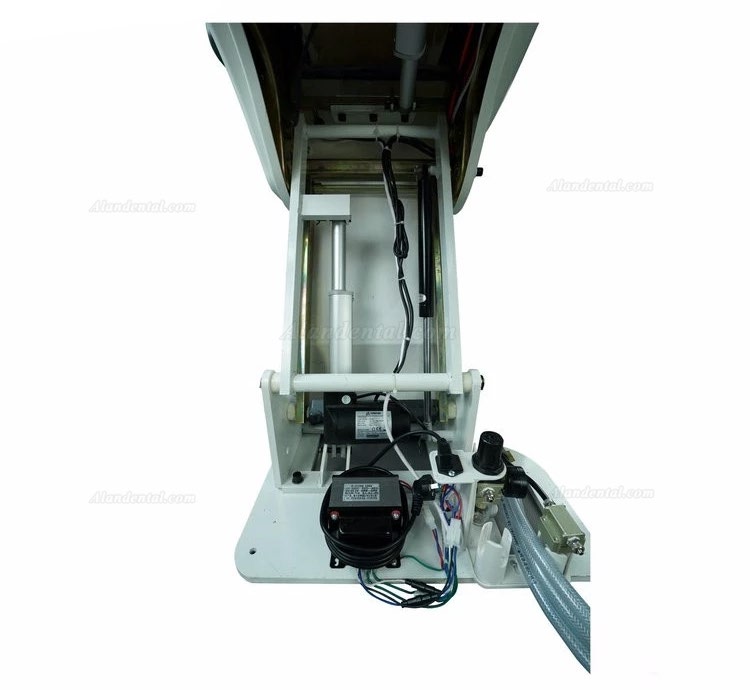 Built-in water purified system with bottle
High temperature disinfection, safe and sterile.

Strong and weak dual-purpose LED cold lamp (1 set)
The strong and weak dual-purpose LED cold lamp has two levels of lights to fit to different treatment environment.
The LED lamp generates less heat but has wide range of lighting so as to illuminate the whole dental treatment unit.

Low-tension X-film viewer (1 set)
The 24V low-tension X-film viewer adopts energy-saving LED light source so as to have a long service life.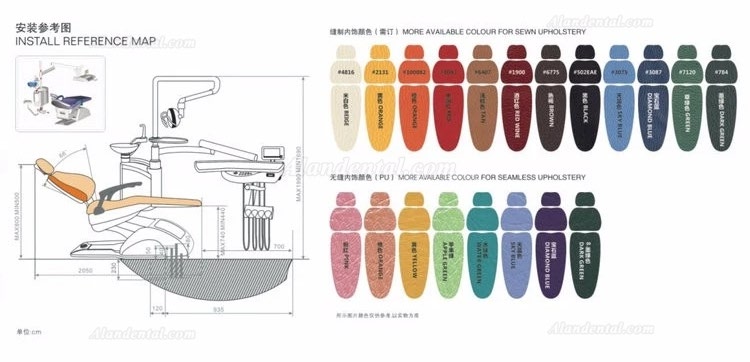 Contact Information:
Live Support: Chat with us online
Email: service.alandental@gmail.com
If you have any problem, please do not hesitate to contact us.
Shipment Note:
If your package shipped by Express Delivery, please give us a valid delivery phone number, and also a full and accurate shipping address.
How to Buy from Alandental?