RebormEndo RLED 6 Led Curing Light for Porcelain Laminate Veneer &Orthodontics
Features:
High intensity up to 1800mW/cm2 for Porcelain laminate veneer and orthodontics
◆Two output functions: P1 for 1800mW/cm2, P2 for 1200mW/cm2
◆Constant light intensity and the solidification effect is not affected by the consumption of remaining power
◆Metal shell and accord with Ergonomic design
◆Built-in large capacity rechargeable lithium battery, a full charge can be used for more than 6 months.
◆Optical fiber can be sterilized in high temperature and pressure.
Technical specifications
Dimensions: Φ25.4mm×264mm
Net weight: 0.4kg
Component: main unit, charger pedestal, optical fiber, light hood, adapter, etc.
Power supply
Classify of power supply
Rechargeable Lithium battery
Rechargeable Lithium battery (3.6V with protection against Over-voltage, Over-current and short circuit) NCM18650 2600mAh
Adapter
Power input :~100V-240V 50Hz/60Hz 0.4A Max
Power output :DC 5V/1A
Built-in fuse protector :T1A250V
Light source
5W high power blue LED
Wave length: 420nm~480nm
Class: Class I
Accessible Emission Limit: 3.9×10-3J
Examination way: check if LED works well.
The common clinical resin such as 3M and Dentsply can match the wave length of this curing light.
400nm~515nm(Blue light)intensity:1000mW/cm2~1800mW/cm2
Optical active area of fiber: 50mm2
Safety
Degree of working mode: Short-time working device
Protection type against electric shock: Class II with internal power supply
Degree of Electric shock protection: Type B
Degree of protection against harmful ingress of water: Ordinary equipment (IPX0)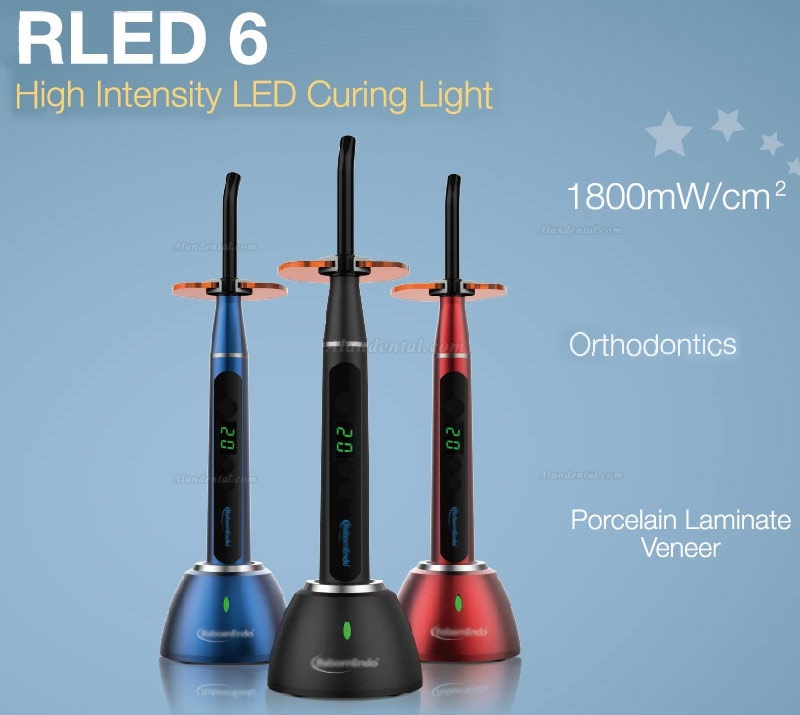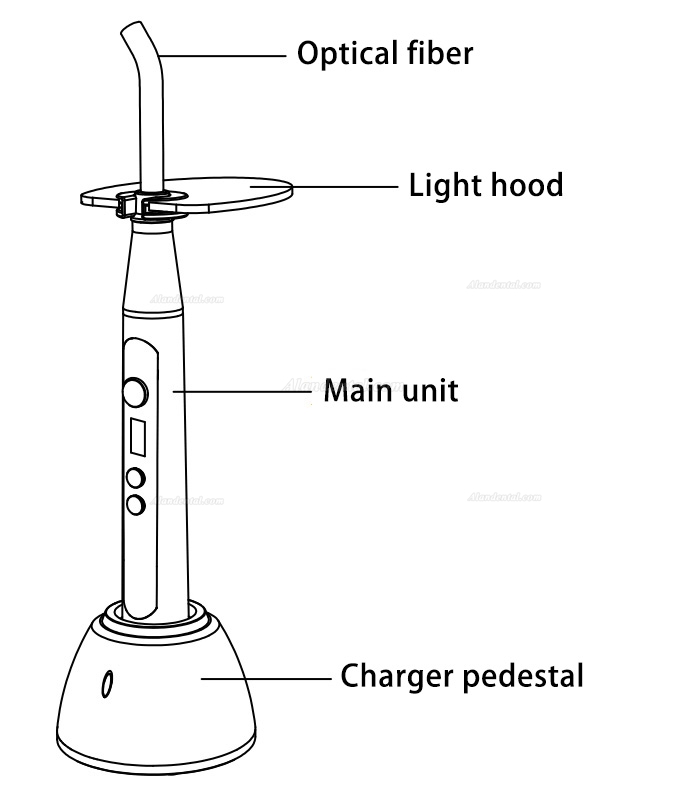 Contact Information:
Live Support: Chat with us online
Email: service.alandental@gmail.com
If you have any problem, please do not hesitate to contact us.
Shipment Note:
If your package shipped by Express Delivery, please give us a valid delivery phone number, and also a full and accurate shipping address.
How to Buy from Alandental?