Jianshu® Mobile UV Air Sterilization ZK-Y-120
The UV-C inhibit the growth and reproduction of bacteria, viruses, allergies and bacteria that live in your travel or ducts hot air systems, ventilation or air conditioning of your homes, offices working etc.

UV radiation affects only the surfaces. It therefore can not be compared to X-rays or gamma rays, which can penetrate solid compounds and seriously damage living organisms.
The lamp power is the energy emitted by the lamp per unit time (mW). The higher the power, the more efficient the system.

It is a UV sterilization system to destroy airborne and germs, bacteria etc virus; which ensures the hygiétique firms, hospitals or at home. The JSFZK-Y-120 is easy to carry for the sterilization of different rooms mobile unit.
Characteristics
Long lifetime, High-strength UV sterilization;
Filtering with primary filter screen and high efficiency filter screen;
Can continuously disinfect while people around;
Static electricity can absorb and eliminate dust and germ;
Adjustable wind speed(High, middle, low),wind circling in multiple direction;
Running automatically by computer telecontrol;
Auto-monitoring UV breakdown;
Auto-record and display the working time;
Operated by far infrared control
Technique Parameters
Model: JSFZK-Y-120
Power: 200W 280W
Fixed time: 0-24h 0-24h
Sterilization volume : 100 m³ 120 m³
Control method: Manual operation/Remote control
Remote control function: turn on/off, fix the time, adjust wind direction
Work noise: ≤50dB(A)
UV germicidal lamp lifetime:≥5000h
UV Radiation strength:10000μw/cm²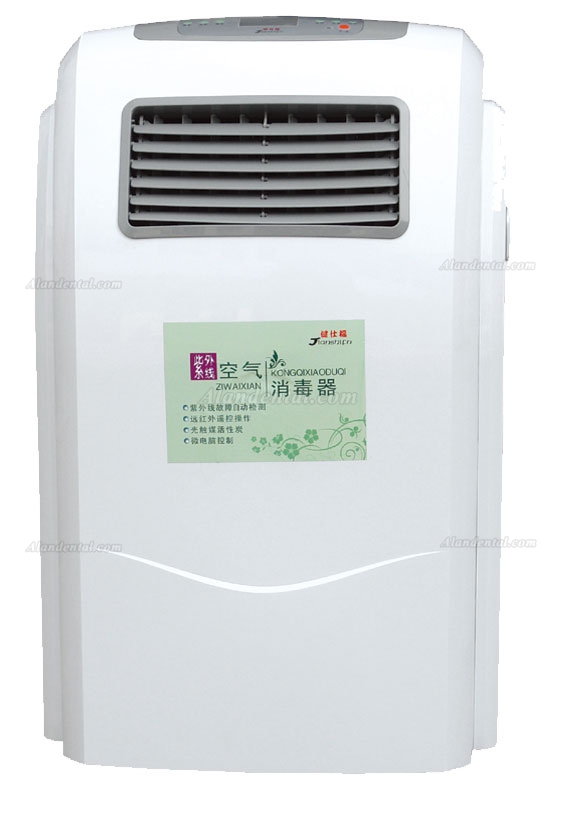 Contact Information:
Live Support: Chat with us online
Email: service.alandental@gmail.com
If you have any problem, please do not hesitate to contact us.
Shipment Note:
If your package shipped by Express Delivery, please give us a valid delivery phone number, and also a full and accurate shipping address.
How to Buy from Alandental?