Getidy® JY-A Series 18-23L Medical Equipment Autoclave
STANDARD: ※Blue LED/USB//Delay-Start/Sleep-Mode/Pipeline Cleaning※
Optional:※Bluetooth/Water Monitoring/Built-in Printer※
***If you need to upgrade the version, please contact our customer service in advance to calculate the price.****
Features:
1. European Class B and S, in accordance with EN 13060: 2004 standard, with three times pre-vacuum and one times pre-vacuum, pulse drying function. Vacuum index up to -0.85bar, the device residual humidity <0.2%.Being able to sterilize instruments that are packed,unpacked,solid,Hollow A,Hollow B and Hollow B pipeline.High efficiency,allwave sterilizing.
2. Super bright blue light LED(JY-A), Super bright yollow-green light LED(JY).PC Automatic control.
3. With tests of "BOWIE & DICK"、 "HELIX"、 "VACUUM".
4. User-defined Function. Adjust sterilization temperature,vacuum times,sterilization time,drying time.
5. New rapid steam generator of stainless steel pipe, completely solve the Silica gel pipeline and seal because it is aging. Set "WASH" program, cleaning pipeline to avoid clogging. (JY-A)
6. By USB connector download sterilization records to U disk.
7. Save electricity Function:Delay-Start、Sleep-Mode、turn off after sterilization、Power recovery restart.(JY-A)
8. Water and steam separation device. In order to improve the life of the vacuum pump, improve the pulse vacuum value, so that the device is more reliable sterilization, enhance the dryness of the device.
9. Upward-Open water tank.
10. ULKA brand mini water pump. SU 304 stripe stainless steel.Double door lock control structure.
11. Use the newest machinery and electronic double-control lock ,to ensure the safety during the operation.
12. The temperature sensor can adjust automatically or manually at will to ensure the autoclave work in different atmospheric environments.
13. The accuracy of temperature is 1℃,and the accuracy of pressure is 0.1bar.
Upgrade Function:
1. Bluetooth label thermal printer:after the autoclave is connected to the printer by Bluetooth signal,order of autoclave send to printer.After the label is printed,it is posted at package. The contents of the label is date,time,S.N,program cycle. Convenience the process is traced.(JY-A)
2. Mobile APP:monitor the various operating conditions of the autoclave. You can operate the sterilizer by phone. After sterilization is over, send a message to your phone.etc.(JY-A)
3. Water Monitoring Device:when you supply the unqualified distilled water, the autoclave runs will is stopped.(JY-A)
***If you need to upgrade the version, please contact our customer service in advance to calculate the price.****
Specifications:
Sterilizing temperature: 121℃, 134℃
Special function: kill the AIDS(HIV), hepatitis B(HBV)mad cow virus and Bacillus
Dry procedure: vacuum drying
Display: digital LED display with high definition
Sterilization program: 4 kinds of programs
Test program: Vacuum test, Helix test
Sterilizing data: print by optional external mini-printer
Safety features: Safe Valve; Double-control lock system and self-test alam system
Water supply system: two water tanks inside, capacity of reservoirs (3.5L fresh water and 5L waste water)
Power: AC 110V or 220V±10%
Frequency: 50/ 60Hz
Socket: International three-pin/ European two-pin
Sterilization Class: European class B
Rated power: 1600W
Instrument containers: 5-layer activity pallet rack with 3 trays
Model: JY-A-18
Capacity: 18L
Chamber size: >Φ230X360mm
N.W./G.W.: 43/48KGS
Packing size: 640X500X470mm
SKU: JY-A-18JY
Model: JY-A-23
Capacity: 23L
Chamber size: Φ230X450mm
N.W./G.W.: 45/50KGS
Packing size: 640X500X470mm
SKU: JY-A-23JY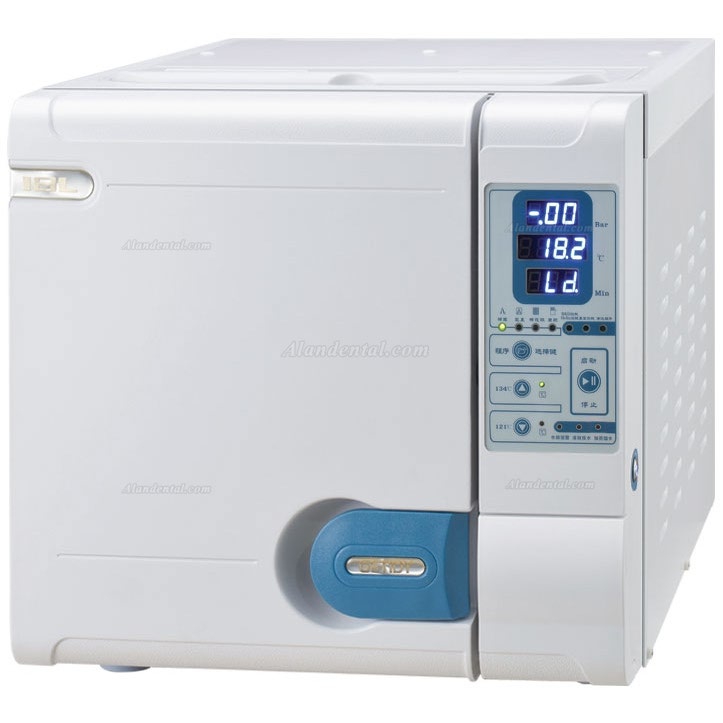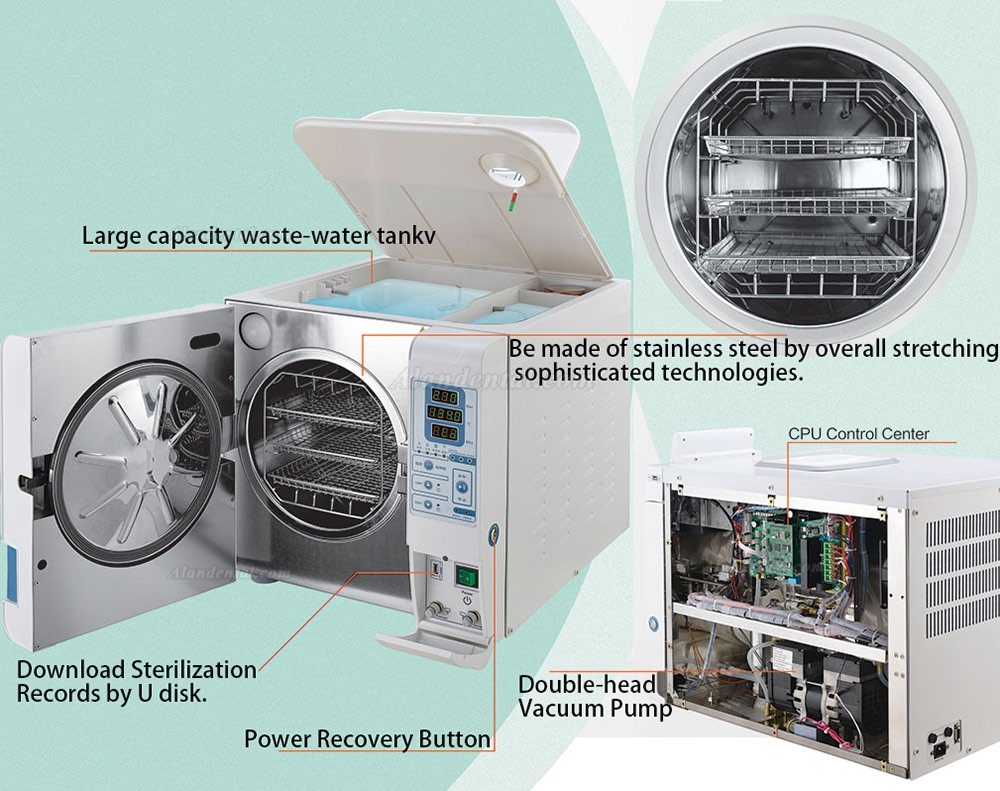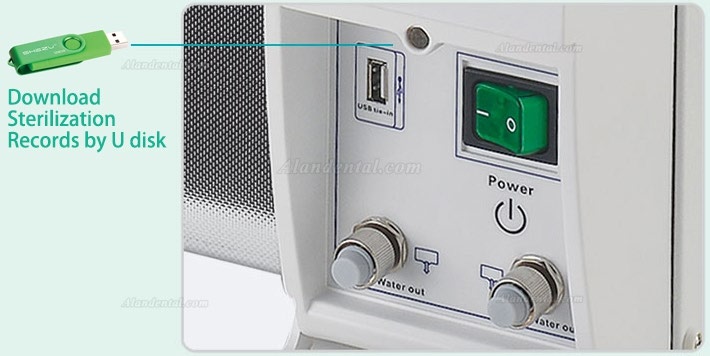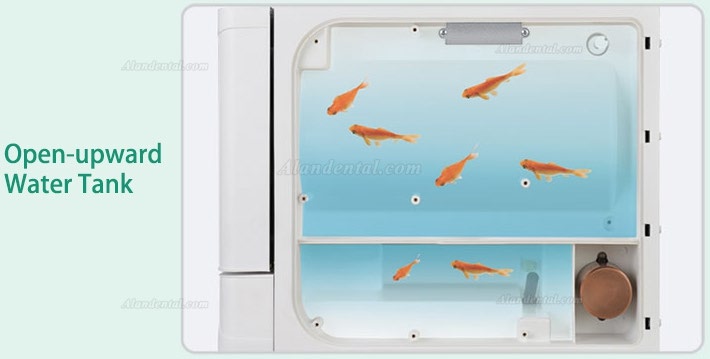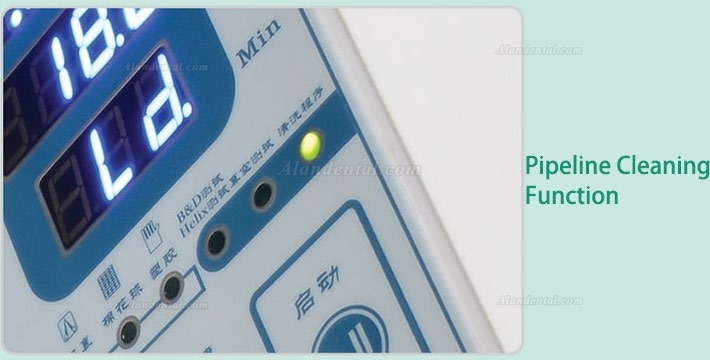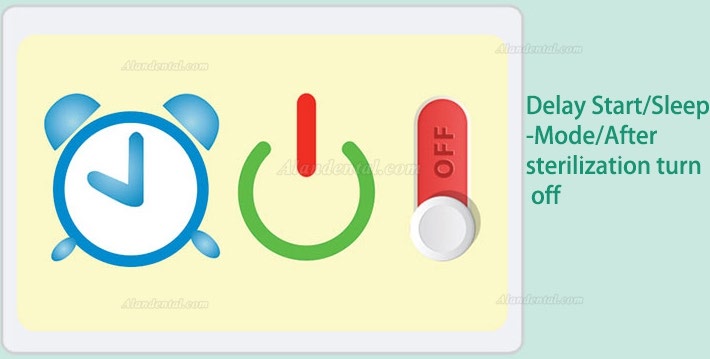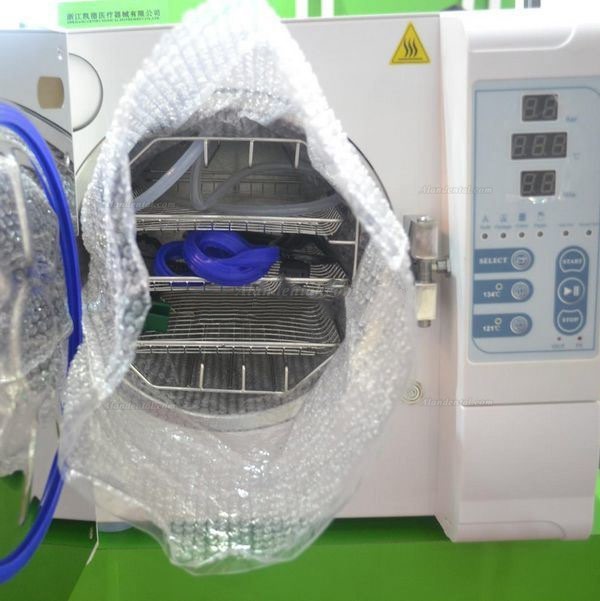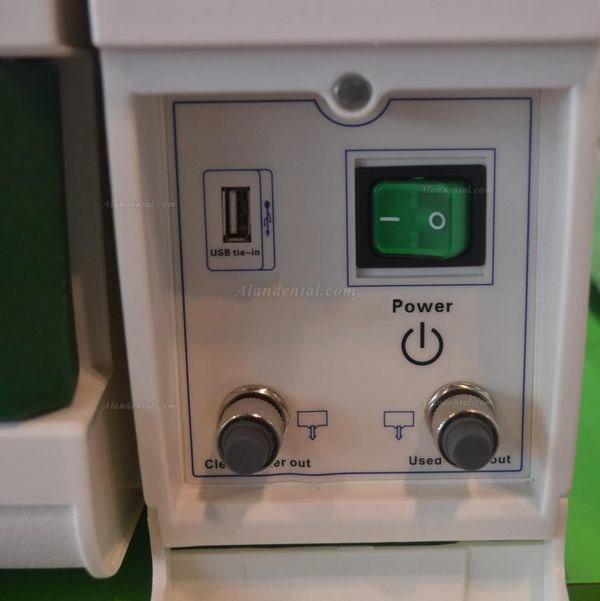 Instructions
1. Please read the manual carefully before operation.
2. Put sterilizers on horizontal worktable and raise the front two supporting stands slightly.
3. Be sure to use distilled water in order to prolong the life of sterilizers.
4. Clean the water tanks and water filter regularly.
5. Do not move the sterilizer during the process of work.
6. All the medical equipment, blankets, clothing etc. which contact pathogenic microorganisms must be sterilized by chemical disinfectant first.
7. The package or container for disinfection items must be appropriate, and is recommended to use double wrapped white cotton with good
steam penetration.
8. Try to put the same kind of instrument in the same sterilizer flatly,leave aperture, make sure steam can penetrate easily.
9. Make sure the machine in good condition, especially the safe valve.
10. Do not open the door until the pressure fall down to "0" bar.
Maintenance programme:
1. DAILY: Clean of the door seal; General cleaning of the external surfaces; General cleaning of the internal surfaces;
2. WEEKLY: Cleaning of the sterilization chamber; Cleaning of the trays and the support;
3. ANNUALY: Maintenance of the safety valve.
4. EVERY 500:CYCLES Replacement of the bacteriological filter;
5. EVERY 500: CYCLES Replacement of the seals;
6. AFTER 10 YEARS: Request a structural check of the chamber;
7. WHEN NECESSARY: Adjustment of the closing mechanism; Cleaning the sterilization chamber, accessories, door and seal.
Contact Information:
Live Support: Chat with us online
Email: service.alandental@gmail.com
If you have any problem, please do not hesitate to contact us.
Shipment Note:
If your package shipped by Express Delivery, please give us a valid delivery phone number, and also a full and accurate shipping address.
How to Buy from Alandental?