BYOND BY-Dreamy-B19 BiPAP Ventilator and Sleep Therapy
BIPAP machine can be set IPAP (inspiratory positive airway pressure) and EPAP (Expiratory positive airway pressure). In use, for the user apnea varying degrees, airway pressure set by corresponding professionals for treatment.
It is suitable for clinical and home treatment of sleep apnea-hypopnea syndrome (OSAHS) and respiratory failure diseases.
Features of BIPAP Machine
1. 3.5"TFT LCD display with easy operation.
2. Interactive operation interface is available. Back-lighting function allow night operation.
3. Fashionable design with fine piano lacquer, convenient for wipe.
4. Respiratory waveform & quality waveform display can achieve real time monitoring of CPAP
5. Ultra silent design & Delay time step up design.
6. The portable machine adopts imported movement technology, capable of constant heating.
7. Bipap machine is working to achieve human-computer synchronization.
Note of BIPAP Machine
1. Not available in bullous lung disease, pneumothorax, severe lack of effective circulating blood volume with shock, coma or with disturbance of consciousness, or don't cooperate or accept the mask treatment.
2. Not apply to children, or physical, sensory, intellectual can not be used safely and without the aid or user under guardianship.
Functions and features
Pressure:4-25CMH2O
Belex (1-3 level):2-4cmH2O
Ramp:0-60min
IPAP:4-25cmH2O
EPAP:4-25cmH2O
Respiration Rate:4~40BPM
Inspiration Time:0.5~3.0s
Inspiration Sensitivity:1~6 level
Expiration Sensitivity:1~6 level
Automatic Leakage Compensation:Yes
Automatic Altitude Adjustable:Yes
Automatic ON/OFF:Yes
Adjustable Constant Temperature Humidification System:Yes
Replaceable Water Chamber:Yes
USB Download to PC:Yes
Sound Pressure Level(10cmH2O):<30dBA
Input Volt.&Freq.:110-240Vac,50/60Hz
Net Weight & Size:1.8kg,255×170×112mm (Host+Humidifier)
BIPAP
Apply Crowd:
1. Moderate OSAHS patients
2. Chronic obstructive pneumonia
3. Respiratory failure
Taboo:
1. Repeated epistaxis
2. Coma
3. Hemodynamic instability
4. Pneumothorax
5. Pulmonary bulla
6. Cerebrospinal rhinorrhea
Product Accessories
Full Face Mask, Headgear, Tube, Filter, Power Adapter, User Manual & Traveling Bag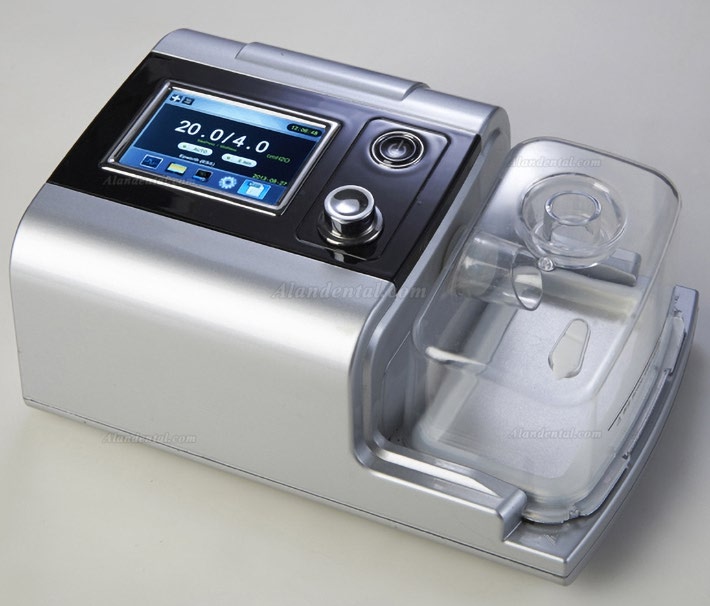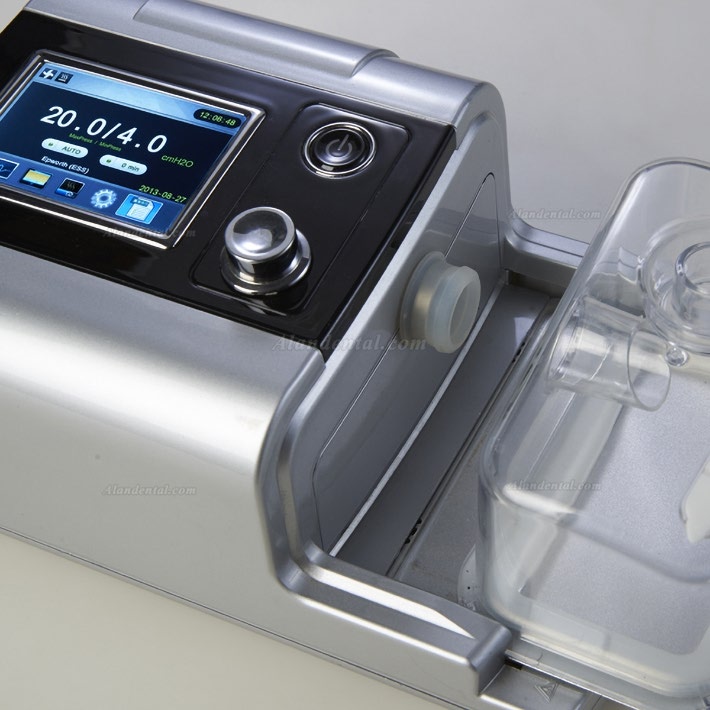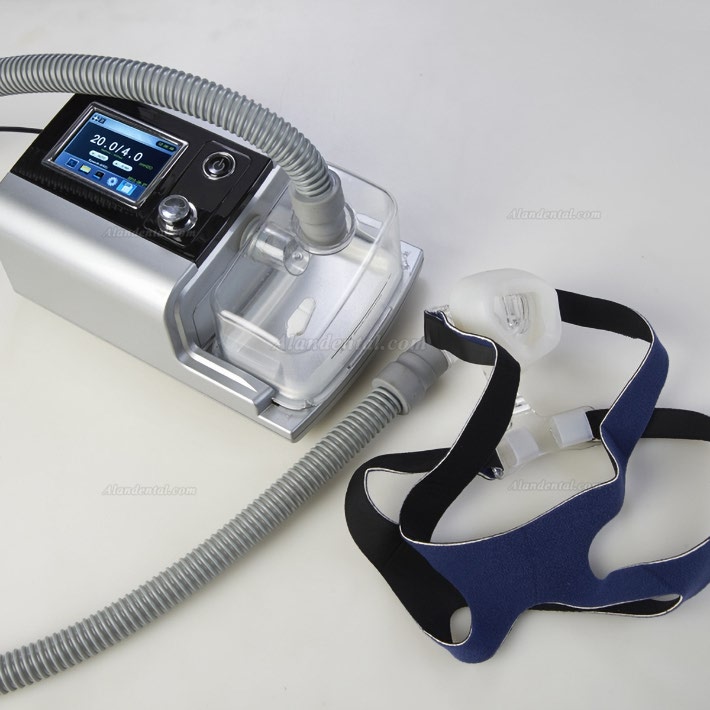 Contact Information:
Live Support: Chat with us online
Email: service.alandental@gmail.com
If you have any problem, please do not hesitate to contact us.
Shipment Note:
If your package shipped by Express Delivery, please give us a valid delivery phone number, and also a full and accurate shipping address.
How to Buy from Alandental?