10Pcs Woodpecker® EMS Mectron Compatible Titanium Nitride Scaling Tips G4T
Material
· Titanium Nitride Surface Treated High Carbon Stainless Steel Alloy
NOTE: Gold scaler tips with code 'T' are tips coated with Titanium nitride to increase longevity.
Sterlisation:
· 135°C, 0.22MPa, 4 minutes.
Classification of the tips
· G1, G2, G3, G4, G5, G6, P1, P3, P4, P3D belong to Woodpecker series, are compatible with Woodpecker, EMS and Mectron ultrasonic scalers.
Usage:
Scaling – Only used on the function of scaling
Cautions
· The tip screwed on to the hand piece must be tightened.
· The tip must be tightened while worked with spray.
· The tip must be cleaned and disinfected before use.
· When the tip or coating damaged or worn, please replace a new one.
· Do not bend of grind the tip.
Contraindications:
· The haemophilia disease patient is not allowed to use.
· The patients or doctors with heart pacemaker are forbidden to use.
· The heart disease patient, pregnant women and children should be cautious to use.
Storage conditions:
· The tips should be stored in clean, dry, ventilated, non-corrosive gases indoor place.
Connect the accessories:
· Use the torque wrench to screw the tip.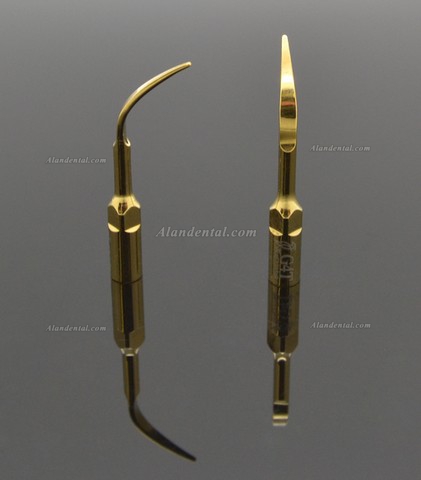 Contact Information:
Live Support: Chat with us online
Email: service.alandental@gmail.com
If you have any problem, please do not hesitate to contact us.
Shipment Note:
If your package shipped by Express Delivery, please give us a valid delivery phone number, and also a full and accurate shipping address.
How to Buy from Alandental?