In the dental field, a curing light can use ultraviolet or visible light, depending on what it is designed for. Both dentist and patient need to wear eye protection to limit damage to the retina for even the 20 seconds to a minute that the light is in use during rapid curing, and the light needs to be well maintained so that it will work properly and effectively. It's also important to use the right dental curing light for the right resin product; many lights are designed to handle a range of resins safety.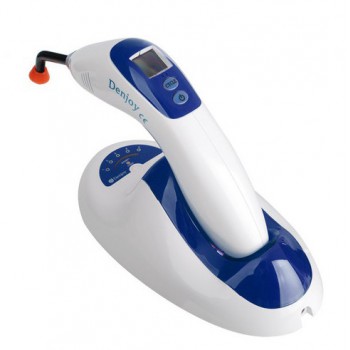 How a dentist uses a light-curing unit makes a large difference in the amount of energy a restoration receives. Even when the device is handled correctly, if the energy level is insufficient, then the resulting restoration may not attain expected longevity; this may explain why resin-based restorations last only five to seven years when actual life expectancy should be 15 years or more.


In a collection of articles written for ADA Professional Product Review, Jack L. Ferracane, Professor and Chair, Restorative Dentistry Division Director, Biomaterials and Biomechanics, Oregon Health & Science University in Portland, Oregon states that there is "considerable evidence that delivering inadequate energy to the restoration will result in a restoration that has less than optimal properties and poor clinical performance."


Ferracane goes on to say that light-cured resin-based composite restorations most often need replacing because of secondary caries and restoration fracture. Other reasons include staining, marginal breakdown, wear, a broken tooth or nerve death. Inadequate delivery of light or energy to the restoration can result in the early breakdown of a light-cured restoration. Therefore, a dental curing light must deliver adequate light energy to attain the best physical, chemical, and optical properties of a resin-based composite restoration.
Using a curing light accomplishes two things. In the first place, it makes sure that the resin cures properly and adheres evenly. When applying fillings, this is critical to keep the filling in place in the mouth. For sealants, the curing light limits the risk of cracks and other problems with the sealant. With adhesives for implants and braces, the rapid, even cure is also designed to limit problems in the future.


The dental curing light also increases patient comfort by rapidly curing resins so that the patient is not forced to sit in discomfort while the resin sets. Since the mouth usually needs to be held open wide and may be dry for the procedure, patients usually want the procedure to end as quickly as possible so that they can close their mouths and remoisturize the dried oral membranes. Using a curing light gets patients in and out of the chair quickly so that the experience of irritation and pain is limited.