As modern technology advances and as the options of dental air compressors expand, selecting and purchasing a new model can seem somewhat overwhelming. Between silent, mini, and oil free models, the selection of dental air compressors is both widespread and vast. Information on choosing the right compressor is somewhat scarce but there are a few important factors that dentists should always consider before investing in a new machine. Dental air compressors can be a costly addition to an operatory; thus making it vital for buyers to take an ample amount of time to research and select the proper model for one's practice.

By selecting a model which is made for maximum efficiency with high quality parts, that is properly sized, and one that comes complete with a warranty, you can ensure that your compressor will enhance your practice as well as function in the long run. Along with these considerations, dentists should insist on finding a model with cool running reliability. Because dental air compressors work diligently on a daily basis, it is vital to find a model with proper ventilation and one which will help to dissipate heat that builds up during times of functioning.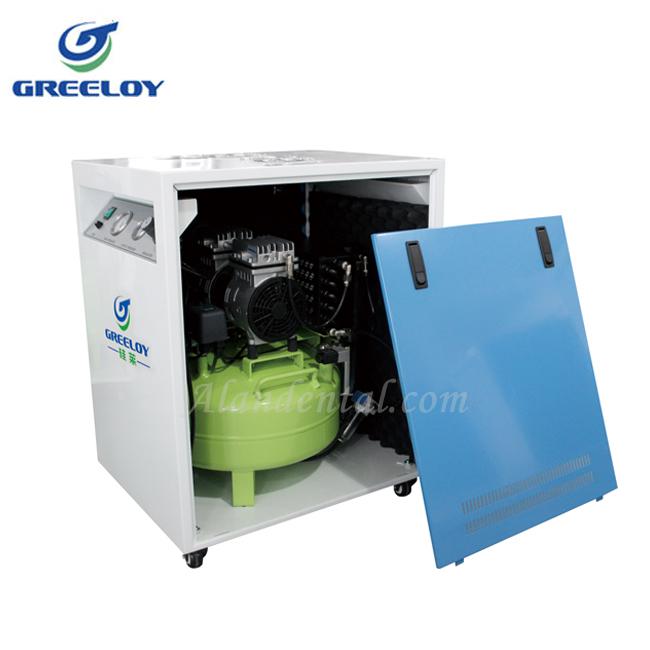 Some units are portable, allowing practitioners to move them around as needed. Others are mounted in a practice. For hygiene reasons, the dental air compressor is typically attached to short tubing. Dentists may place a unit between two treatment rooms, for example, providing access from either side while leaving the tubes short to reduce the risk of breeding bacteria. The best option for a facility can depend on the number of patients it sees and the kinds of procedures it performs with the use of compressed air.

Compressors which require oil lubrication are consistently adding oil vapor to the stream of compressed air that is released. Even if the compressor is top of the line, it is impossible for it to filter out all of the oil from the air. The vapor from the oil will eventually negatively impact dental instruments, components and tools as they become clogged and damaged over time. This can result in costly maintenance updates and repairs. Also, much like a vehicle, dental air compressors which use oil require routine oil changes as they steadily expel oil overtime. This can be time consuming to the dentist as oil levels must be checked on a regular basis. By selecting a model with an oil-free compressor, you can eliminate these problems and save both time and money over time.

Dentists should select a model with dry reliability. With newer models of dental air compressors that are now capable of removing moisture from compressed air, you can ensure that your air is both high in quality, extremely dry, and most importantly, safe. Dental firms can choose from an array of models designed for small, medium, and large practices with a variety of features. Like other equipment in the practice, a dental air compressor can be subject to inspection by health department officials to confirm it is safe for use with patients.