Wireless LED Curing Light Cordless Version - Double Handpiece Double Batteries
Designed for maximum efficiency
To maximize operator efficiency, the 3H BLUELIGHT evolution light provides all of the features you want - without complicating it by adding
Ones you might never use.
> Small, cordless wand-style light.
> Well-balanced weight of the handpiece is 250 g
> Light guide rotates 360° to help reach all areas of the mouth. Light guide geometry allows for easy intra-oral handling.
> Innovative design eliminates need for noisy fan and includes a switch-off option for beep signals for completely silent operation.
> Smooth, vent-free aluminum exterior allows fast disinfection between patients.
> Anti-glare protection shield rotates 360° to accommodate different techniques and indications;
Simple, intuitive operation
There really is no "learning curve" with the BLUELIGHT evolution LED light.
It is designed for maximum simplicity - which is the key to intuitive operation.
> Simple two-button operation with one cure mode that covers all indications.
> Unique, multiple-setting light timer features easy push-button control to set timing intervals of 5, 10, 15 and 20 seconds,
a continuous 120-second mode, and tack-cure mode.
> A unique tack-cure function allows predictable curing with reproducible short light pulses produced by simply keeping the start
button pressed. In comparison, the unpredictable light flashes produced by manually turning a light on and off can result in a longer,
Harder cure than desired.
> The tack-cure function makes removal of light-curing cement like Self-Adhesive Universal Resin Cement excesses easier and
more predictable. For easier removal, excess is tack-cured to gel state.
Technical Specifications
Power supply : 100-240 VAC, 50-60 Hz
Size (in mm) : 228 x 146 x 146
Weight : 0.92 kg
Handpiece light source : High-power 5W LED
Wavelength : 430–480 nm with peak at 455 nm
Light Intensity : Ø 8 mm light guide, black > 1,300 mW/cm²
Fibreglass light guide : Ø 8 mm, black, can be sterilised at 135° C
Size (in mm) : 228 x 146 x 146 (excluding the fibreglass light guide)
Weight : 0.92 kg

Battery
Type : Lithium-ion battery (no memory effect)
Capacity (cure time) : Approximately 40 minutes
Charging time : Approximately 2 hours
Size (in mm) : 228 x 146 x 146
Electronic module
Power supply : input 100-240 VAC, 50-60 Hz
output 5 VDC, 1.5A
Size (WxLxH in mm) : 228 x 146 x 146
Weight : 0.92 kg
Power supply cable
Power supply : input 24V AC/DC
output 5 VDC, 1.5A
Size (WxLxH in mm) : 228 x 146 x 146
Weight : 0.92 kg
Warranty : 1 year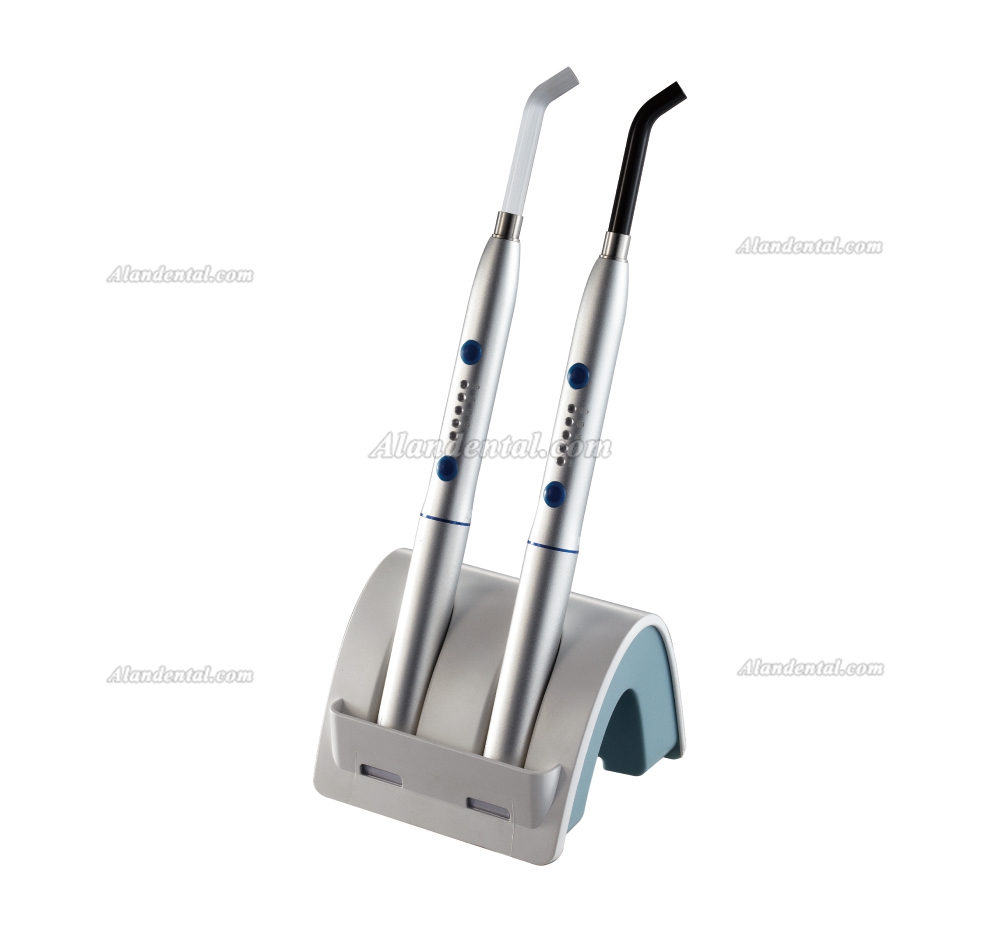 Contact Information:
Live Support: Chat with us online
Email: service.alandental@gmail.com
If you have any problem, please do not hesitate to contact us.
Shipment Note:
If your package shipped by Express Delivery, please give us a valid delivery phone number, and also a full and accurate shipping address.
How to Buy from Alandental?